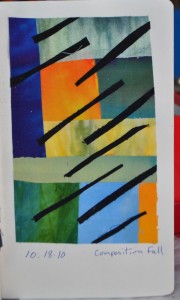 Wow, it has been more than a week since I have done a fiber sketch. I grabbed some scraps and came up with this simple composition that reminds me of autumn.
We arrived home from California on Saturday evening — exhausted and happy that we had spent some great time with family and friends in San Francisco. I think I need one more good night's sleep to get the energy to get caught up with stuff.
Yesterday, we drove out to the farm to pick up Scooter. It was a beautiful day for a drive to the country. I snapped this photo of Mt Hood. Looks like it is time for snow – Mt. Hood is getting bald.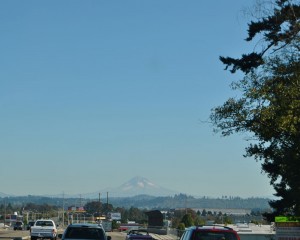 Today, we stood in line to get our flu shots. It was the first day that Kaiser offered them so there was a pretty long line, but I entertained myself with my iPhone and the time passed rather quickly.
My good friend, Judy from Georgia, sent me a package for my birthday with these two goodies — one of her beautiful scarves and a sand timer with lime green sand.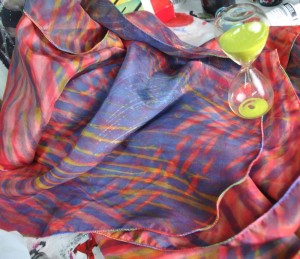 I just love the colors that Judy put into this scarf – can't wait to wear it.