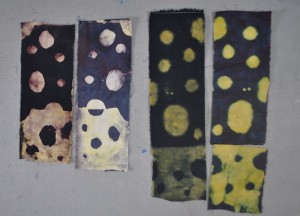 I am really pleased with the discharge tests that I did today on two hand-dyed black fabrics. On the left are the pieces discharged with thiox. On the right, I discharged with chlorine. I am so excited because the color on the far right is exactly what I am looking for in the piece I have in mind. The two pieces on the left in each case are a cotton sateen dyed with Dharma's Jet Black. You can see that they are a darker black. The pieces on the right were dyed by me using Prochem's Cotton Black 602 A which has a very blueish tint.
I now have an author profile on Amazon. You can see it here. What a hoot! You can also get my blog delivered to your Kindle for a $1.99. That is an even bigger hoot!!
I bit the bullet and entered Allegro into the SAQA Beyond Comfort exhibit. I am number 55 so quite a few people have already uploaded images. Nothing ventured, nothing gained. This is my first time to enter a SAQA show.
We got our plane tickets today for our trip to Japan next year. We are leaving on March 19th and will be there for two weeks. I am so excited. Something really big to look forward to. I have wanted to make this trip for so long. There is still room in the tour. Here is a link: Saber Japan Tours. Jerry Saber, like my husband, worked for GE, and lived in Japan.  His wife is a textile artist.
I also sent two quilts off to Chandler, AZ for the Art Quilts XV Needleplay.
Here is my Fiber Sketch for today. It is a composition on a monoprinted background.