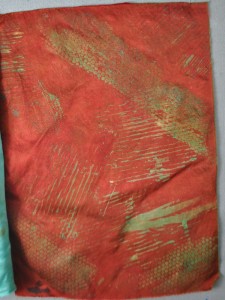 After mistakes and some experimenting, I finally got a piece of fabric that I am happy with. You can click it to see it enlarged.
After the last failure, I decided to mix up some turquoise dye with thiox discharge paste. I have done this in the past to get turquoise deposited where the fabric is discharged. For some reason, turquoise does not discharge. Remember that a couple of weeks ago, I was discharging black fabric. I had some paste mixed up and sitting in my dye kitchen. I blithely added turquoise dye and went to work.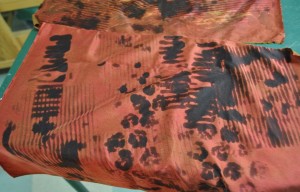 I wore my respirator!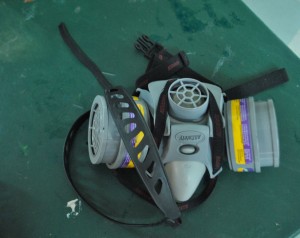 And after the fabric dried, I ironed it and then threw it in the wash. Guess what? I ended up with a piece of rust silk with no marks at all. Well, I forgot that thiox paste is only good for about 24 hours. Duh.
My next experiment was to mix dynaflow paint with the de Colourant paste. I made more marks on the rust silk.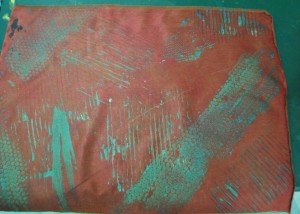 After I steamed it with an iron, I could see from the back that the rust had discharged.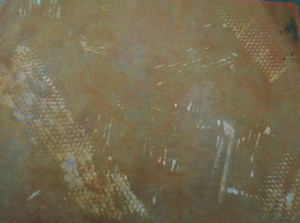 When I washed it, I got the subtle verde green color in the first photo. I am very happy with it.
I am working on two projects that need to be completed by next Monday. The other is for a juried show at my church, Trinity Episcopal, titled: Mirror, Mirror, a show of self portraits.
I did a self portrait a  few years ago for a Quilting Arts challenge — a Picasso version of my younger self. I decided to do an updated version and mount them together – sort of me – 50 years apart. The older me is more colorful! Here they are with the newer version a work in progress.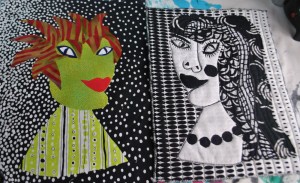 I have been having fun and feel very energized after a fallow period. The studio is a mess which means I am in creative mode.