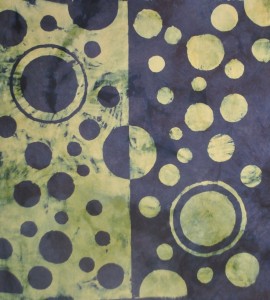 I often feel that I exist in an alternate universe that is connected to another, but is upside down and in reverse. So that is what I am trying to portray in this discharged piece.
I dreamed about doing this all night. I was going to hit the studio early this morning and get on it. Life intervened. I had to do an SDA website update this morning and so I didn't get started until after lunch.
I drew the pattern on freezer paper and ironed the circles to one side and the remainder to the other side.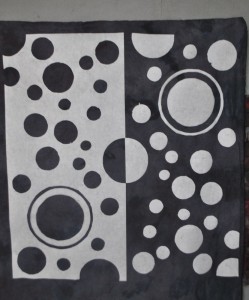 I used a chlorinated gel cleanser to remove the color. It was a nice warm, breezy day do I was able to do the work out on the patio.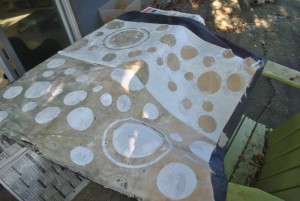 Now, I have to work out how to quilt this. I think I will do hand stitching on the planets.
There is no fiber sketch tonight. On Wednesdays, Mr C and I have dinner at Trinity Cathedral, followed by a class. Tonight we started a class on the writings of David Abram. He writes about the cultural causes and consequences of environmental turmoil from a very spiritual point of view. He has done a lot of study with indigenous people and it strongly informs his writing. He gave a lecture at Trinity last week-end, and I was captivated and spell-bound.