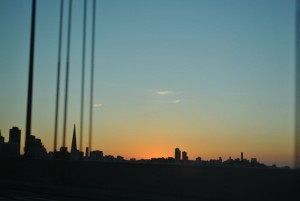 The sun was setting as we drove across the Bay Bridge late yesterday. We had an uneventful drive and found 91° temps and bright sunshine in California. I have a love of the late summer/fall landscape.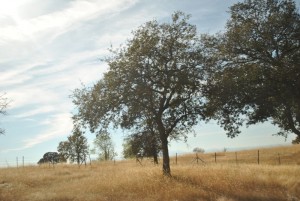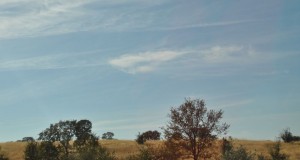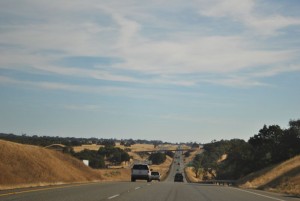 This is a view of the Crocker Bridge. I love to photograph bridges as I drive across.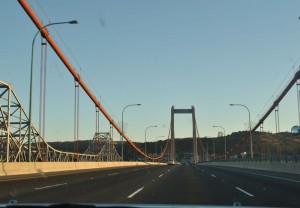 My son made a delicious birthday meal and bought me a cake. We were exhausted from the long drive so did not celebrate too much.
This is the view from the flat where Mark and Jayme live.
Today, we went to the De Young to see two exhibits: To Dye For: A World of Saturated Color and Van Gogh, Gauguin, Cezanne, and Beyond: Post Impressionist Masterpieces from the Musee d'Orsay. Both exhibits were fabulous – The Impressionist show required special tickets for a specific time and it was quite crowded.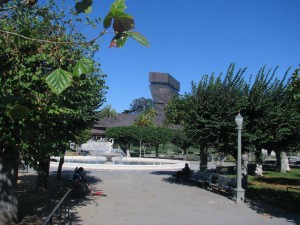 The To Dye for show was right up my alley – saw old and new textiles that had different methods of resist dyeing.
We saw Van Gogh's Starry Night; it was underwhelming to me. I really loved his Painting of his Arles Bedroom. It was painted just before he committed suicide. I think the sunny yellows and sky blues give it a happy feel.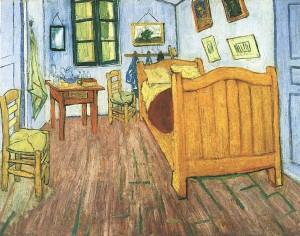 I loved the work of Emile Bernard and Maurice Denis – two artists that were new to me.
We drove over the hills of San Francisco to Lisa's studio for a visit. It was such a clear and sparkly day.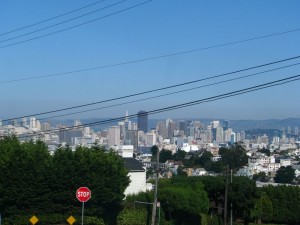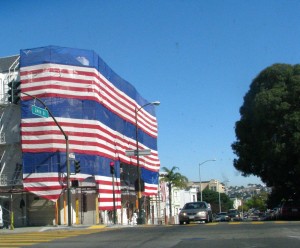 I found a quilt that I made a few years ago and gave to Lisa. Her chihuahua, Wilfredo, uses it. That makes me happy. It was a trial for me to do this precision piecing. I am glad some warm body curls up in it.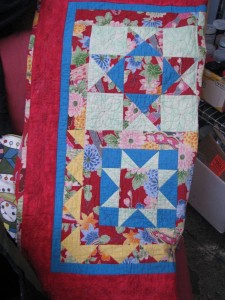 Here is a shot of Lisa's studio – always inspiring.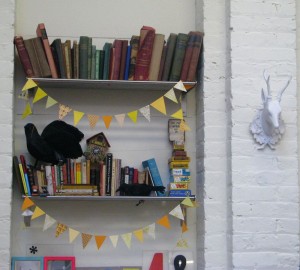 Tonight we went out to dinner with M & J and some of Jayme's relatives who were in town. We had yummy Mexican food. I had chicken in a mole poblano sauce – very good.
Tomorrow, I am off to PIQF.