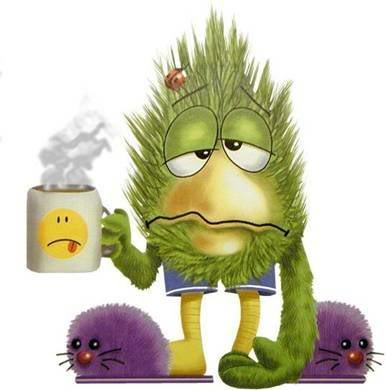 This is how I felt today. Not sure if I am getting a cold or have sinus issues. I also think that I am having sleep problems due to the time change. I just could not get moving. I had some veggies that I needed to cook so I dragged myself to the store to get some other ingredients to make a big pot of soup.
Tonight was the arts commission meeting at Trinity and I have missed the last two so I wanted to go. Fortunately, the soup revived me. I am glad that I made the effort. Our current chair is retiring and we have no one to replace her at the present time so we are going to try to keep things going as a committee.
While I was lolling on the sofa with my herbal tea, I was trying to keep up with the conversations happening on two of the lists that I subscribe to  — Quilt Art and SAQA. On Quilt Art, they were discussing what to call ourselves – fiber artists, textile artists, quilt artists. I don't think it matters much what you call yourself or your work. I think you need to love what you do. Do it the best you can. Keep learning and growing. And occasionally throw it out in the world and see what others think about it.
On SAQA, the conversation was very heady. There were words like derivitive and context thrown around. The usual suspects were weighing in with their very educated and erudite opinions. I sometimes feel so outside the circle. That doesn't really bother me. I just feel as if I am eavesdropping on conversations that I can never be part of.
What I know is that I love what I do and I keep working at it and sometimes it is worth throwing out there. Perhaps, tomorrow, I will get back to work.