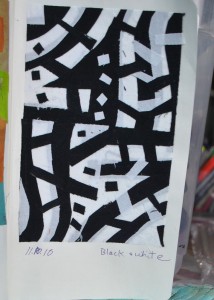 I had a really good night's sleep last night. I awoke refreshed and ready to tackle a few things in my life.
It is not all sunshine and roses, however. The day brought a disappointment and a sadness.
The disappointment is that I did not get juried into Form Not Function. Like Q=A=Q, I have been in this show before so I had an expectation that I might get in again. I received a very nice rejection e-mail and a list of those who got in. It is a smallish show so I am not that surprised that I did not get in.
The sadness was hearing from a friend that her husband has been diagnosed with stage 4 pancreatic cancer. It is devastating news. My friend, Dee, is not seeing much progress with her husband and thinks he is giving up. No news from my sister except that they have met with hospice and have that in place when it is needed. These 3 women and their spouses are often on my mind during the day. One of my friends said it is the curse of growing old — these events pervade your life.
I had fun making the fiber sketch today. I wanted to try something a little more complex. I also finished cleaning and reorganizing my studio kitchen. Now, I can tackle the studio so that I can get to work on some large projects that are on my mind.
Scooter loves to hang out in my office with me. If I am there working on the computer or sitting and doing hand-sewing, he happily stays with me. If I get up and go into the studio and start working, he comes in, checks out what I am doing and runs upstairs to hang out with Mr C.
Here is where he hangs out at night and when we leave the house for any length of time. He is such a good boy. He loves the chilly weather and seems to enjoy his walks more. Of course, he has that lovely coat that he wears all the time.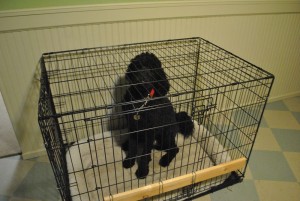 I am looking forward to tomorrow. STASH at Terry's!