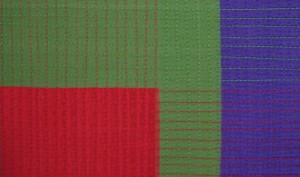 I am having so much fun playing with the colors for our Twelve X Twelve color play theme. I am using the same layout, but different color ways and fabrics. I went to Mill Ends this morning on a quest to find silk in colors that really nailed the theme. This photo is not a good replication of the colors at all. The red is winier and the eggplant is a really deep aubergine. So far it is my favorite of the three I have done. I am going to do one more tomorrow, switching the wine and green.
As you can see, I am trying to do some perfectly spaced stitching on these. Not an easy feat for me. I did buy some Guttermann silk thread that matches the fabrics perfectly, and it sews beautifully.
I had this really ugly fabric in my stash of fabric for backs.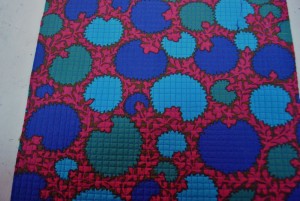 I have to wait a week before I can share all of these with you. I plan to do one more and then move on to other pending deadlines.
Something you won't see on my blog are sketches. This will be a sketch free zone. LOL! It seems every one is doing it in some form for the new year. I am not against sketching, but I don't feel that concentrating on it will help me achieve my goals. If you want to see some excellent sketching, I recommend the Urban Sketchers blog. Much of the work there is just fantastic.
I am really interested in experimenting with innovative surface design techniques and surveying the art world for contemporary abstract artists whose work might inspire me. So that is what I will be posting this year in addition to my own creations.