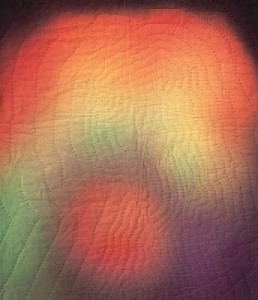 It is Portland First Thursday gallery walk night. We had the opening for our show, Mirror, Mirror at Trinity. I had to go early to help set up the food and drinks for the reception. We snuck away for a bit to see the show of stitched works by Anna Von Mertens at the Elizabeth Leach Gallery. I had hoped to catch Marci McDade, Fiberarts magazine editor, but she had not shown up yet when I was there. Anna said she was expecting her to be there. Anna, just won the prestigious United States Simon Fellowship of $50,000 in the field of visual arts. I think it is so awesome that a fiber artist won this award.
The piece above is Girl with a Pearl Earring's aura, after Johannes Vermeer 2009, hand-dyed, hand-stitched cotton, 17 3/4″ x 15 1/4″ Anna paints layers of dye on cotton to achieve the auras that she sees in famous paintings and then hand stitches tbe trail of the aura. The pieces are very luminous. She is a delightful young wife and mother from New Hampshire. It was nice to chat with her about her work.
Our show reception was well attended which made us all very happy. I got such positive feedback on my piece. Someone I don't know guessed that I was the artist because of my hair.
Here are the winners of the prizes. I took the photos with my iPhone.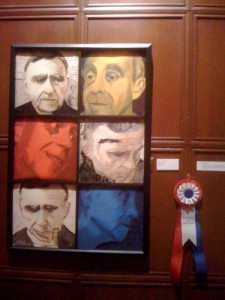 This was best of show by Joe Dubay, a retired priest. Each smaller painting is collaged with memento's of his life – family photos, letters, and other ephemera — a lovely piece.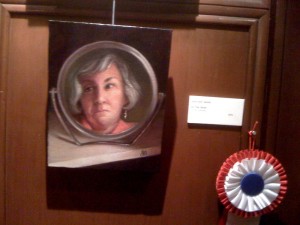 This piece won for Best Interpretation of the Theme – Mirror, Mirror.
This amazing piece won an honorable mention. It is woven from yellow cedar. The face was made by pressing the wet weaving over a mold of the artist's face.
This morning, I made one more eggplant colorplay piece, rearranging the colors one more time. I think it will be the piece I use for Twelve X Twelve.
Tomorrow, I am having lunch with Terry Grant. She has to deliver some quilts to me and I suggested I treat her to lunch, using my Groupon for a restaurant in the neighborhood.