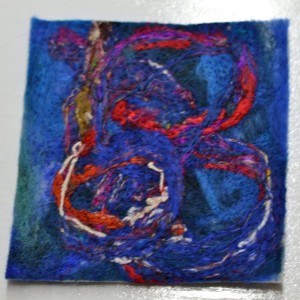 Well, not really, but I am working with blue fabrics this month.  March will be yellow. Feb 1 is a felted piece.
Today's 3 X3 just had to have some indigo.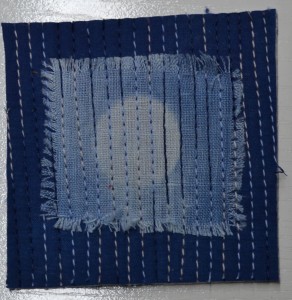 I spent a good deal of time yesterday morning reorganizing the fabric in my studio — putting away the red stash, pulling some blues, folding and sorting my hand-dyes. It was good to take an accounting of what I have.
Then, I started in earnest working on the next Twelve by Twelve which is really Twelve by Twenty! I cut a piece of batting and was able to figure out how to put it together. I am making fused blocks of different sizes. I have two more small one before I can get every thing fused to the batting and start quilting.
This morning, I went to the airport to pick up Lisa who is here to hang a show with another artist friend. The opening is tomorrow night.  I made a delicious lentil/sweet potato stew for supper tonight — vegan, of course.
Lisa has lots of work to do so we are both going to be down in my studio and office working tomorrow, There will be one diversion — someone who does a style blog here in Portland is coming by to photograph Lisa for her blog. That should be fun.