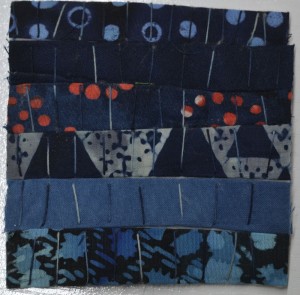 Some days, I just can't think of a catchy title for my blog!! This is today's 3 x 3, stitched while I was at a High Fiber Diet meeting. I hadn't been to a meeting since October, I think. It was fun catching up with every one. Two of our members did a very informative talk on value with great visuals.
I painted the background for the neighborhood walk quilt.  Fortunately, I have two backgrounds because I think I messed up the first one. I hung them outside to dry and then noticed it was raining. I think I am on the right track because there will be more layers. It may be that the first failure will work best.
I made some more thermofax screens. I like these twiggy trees.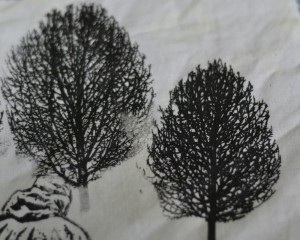 This gnarly old tree is probably too dark. I think I need to lighten up the copy and try again. We have lots of trees like this in our neighborhood.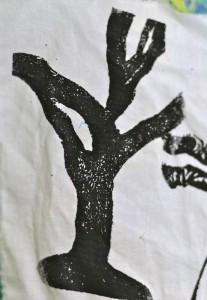 Ignore those blobs on the right – this is my test fabric with other images.
Tomorrow, I am going to work on printing out my blended photos on my large Epson printer.