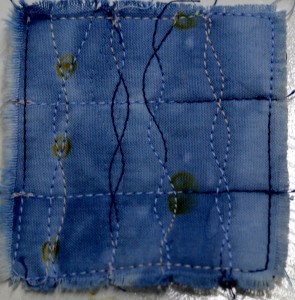 Yesterday's 3 x 3 is a piece of indigo with some rusted areas.
I am not being as productive as I want to be. I started a new regime today. I am hoping to get more work done in my studio so that I can keep up with my commitments. I had to do some neatening and cleaning to get ready to finish the Mr C and Scooter piece. Here is the background fabric that painted before I went to SF.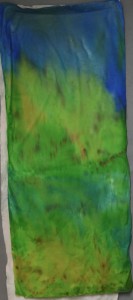 I need to do some more layers of painting and printing before I can collage the blended photos. I have some trees to make into thermofax screens then I can start printing.
For today's 3 x 3, I decided to work with complements. This is blue silk background with orange circles, free motion quilted.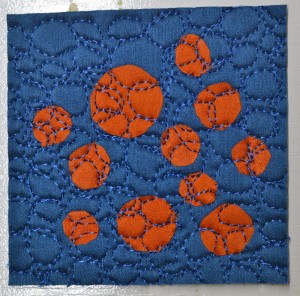 Lisa called tonight to tell me that she and Clay are meeting with a wedding planner on Tuesday to make plans for a spring 2013 wedding. Woo hoo! The venue will be the Marine Headlands, and you need to reserve it a year ahead.
Here is my boy, all curled up and sound asleep.