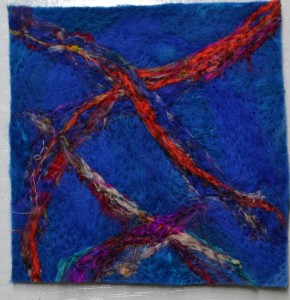 (BREAKING NEWS – The winner of the scarf is Janet Wright. Send me your snail mail and I will get it off to you. Thanks to all of you who chimed in!!)
I feel as if I spent most of the day in and out of the house. I had to get gas in my car, go to Kaiser for my quarterly blood work and deliver a quilt to a friend. Then, home to walk Scooter in the rain. He did not like the rain without his fluffy winter coat. We saw this Rhodie down in the Rhodie Garden. Wow, this is the earliest I have seen one in bloom since we moved here 5+ years ago.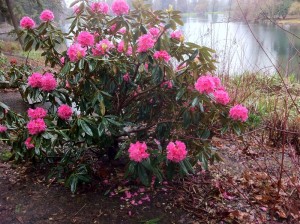 I made a salad for lunch and spent too much time on the computer and then off to get my hair cut, deliver the quilt for real this time (I couldn't reach her in the morning) and pick up some groceries at Trader Joe's.
I finally got down to the studio and started cleaning up from the Metamorphosis art work. I had hoped to paint the background fabric for the next quilt I am going to make and it has to be big!! I didn't make it!! But, I did get my tables clear so that the next time I have a free hour, I can get it done. I did, however, cut the batting so that I can plan the elements and sizes. It is 60 inches high and 24 inches wide.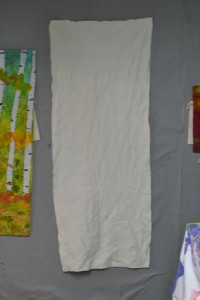 Today's 3 x 3 is felted. It is my go to when I am busy. I am going to take some fabrics for hand stitching while I am away. Not sure if I will get to post them until I get home.
Tomorrow is STASH at Gale's house and then I must get organized to leave town for the week-end so the painting may have to wait until next week.