I took this photo of Lisa and Clay last week while in San Francisco. Today, Clay asked Lisa to marry her and she said, yes! Clay had confided in me when she was here for Christmas and I even helped her select the ring. I felt so honored to be her confidant. We are so happy to have Clay become a part of our family. I think the wedding won't happen until 2013 and hopefully, by then, marriage between same sex couples will finally be legal.
Another fantastic thing happened for Lisa this week. The biannual invitational at the Contemporary Jewish Museum in San Francisco opened and her piece sold on the first night – $2500!! So proud of her.
This morning, I had fun with our encaustic adventure at Trinity. It was a great group of students. Serena Barton, our teacher, said it was one of her best group of students. Here is some of the work that was done.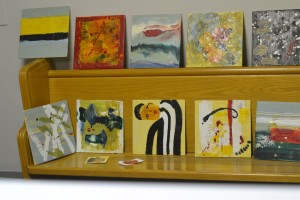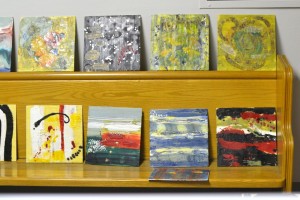 I did three pieces – two with textiles. This piece has a couple of strips of shibori indigo in it.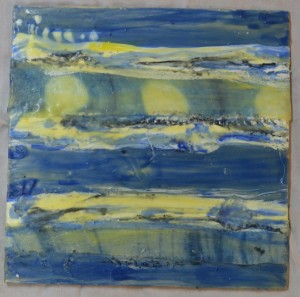 For this piece, I printed a photo of one of my aspen quilts on silk and encased it in wax. I overworked the piece trying to blend the edges. The photo was a rectangle and the board was square. I would like to try this again with better proportions.
This is the last piece I did — in about 10 minutes. It was fun to just go wild with the beeswax paints.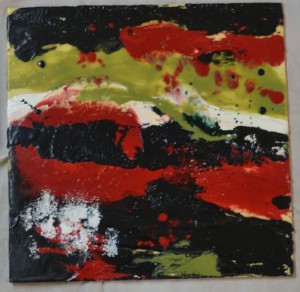 We all agreed that we want Serena to come back and for a full day.
Tonight, we went to the symphony which was being recorded for a cd. We were cautioned to be very quiet and it was hysterical to hear the coughing every time there was a break.
I bet you thought I didn't have time to do a 3 x 3 today, but here it is . A quicky felted piece.