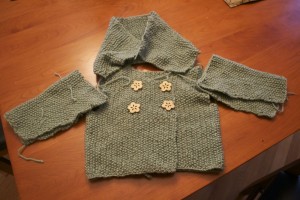 Some of my readers may remember when I started this sweater for Paige, months ago, before she was born! I used to knit – a lot! Now, I can knit for just so long and my hand gets numb so it has taken be a while to finish this. I hope that she will be able to wear it for a couple of months, at least. I just have to assemble it, wash and block it before I fly down to visit her on Thursday. I ran out of yarn when I was binding off the hood. Fortunately, I was at a meeting near the yarn shop so I stopped and bought another skein.
I think these baby Ughs and the leg warmers will look cute with the sweater.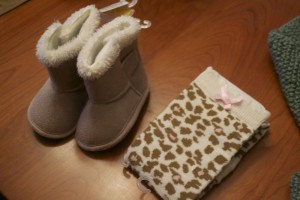 I had a fun day with M & M yesterday. Miles had to leave early to go to a birthday party so Mia and I had lunch and went shopping at Target before I took her home.
Today, I had a Trinity Arts strategy session from 9 until 1:30. It was great to just share ideas and sort of dream of what could be and feel good about what we are doing well.
Tonight we went to the symphony. The conductor was a 24 year old adorable guy from Uzbekistan. He was very good, especially with the Tchaikovsky piece.
I did manage to keep up with my 3 X 3's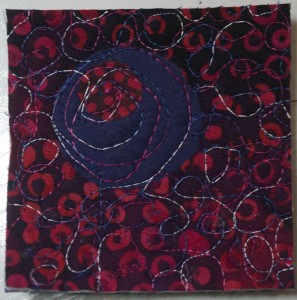 I received yet another birthday gift from Judy Carpenter yesterday, a signed copy of Lisa Kirpoe's book, Visual Texture of Fabric. Can't wait to use it.