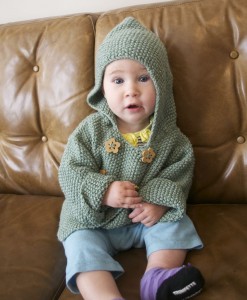 I am having a wonderful time in San Francisco. You can see that Paige looks pretty cute in her hoody. She likes to chew on the buttons. And, she has room to grow so she can wear it for a while.
Yesterday, after I arrived, Lisa took me to downtown SF so that I could do some shopping at Macy's which has a huge selection fo Eileen Fisher fashions. I bought several things and had them sent to my house to avoid paying the enormous sales tax. Then, we went to Nordstrom where she bought boots that she has been dreaming about, and I bought shoes that I love.
Lisa and Clay took me out to dinner at The Plant Cafe in the Embarcadero. We sat outside by the bay. It was a beautiful evening.  Then, they dropped me off at Mark and Jayme's. Paige was already down for the night so I had to wait until this morning to see her. I got to spend the better part of the day with her, by myself. Here she is having some rice cereal for lunch.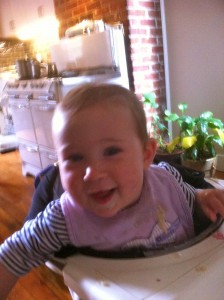 Paige and her Daddy are best buds. Her face lights up when either parent comes into the room.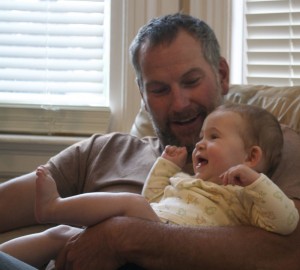 I managed to get one 3 x 3 done before I came down here so it will be  catch up when I get home, next week.