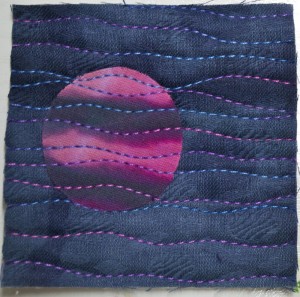 I arrived home from San Francisco yesterday afternoon. I had to fill the fridge and pantry again and unpack. I conked out early. Today, I have been moving in slow motion, but did get in a walk with Mr C and Scooter. It has turned quite cold. I am not ready for such an abrupt change.
I woke up missing the sounds of Paige cooing and giggling. What a special little girl she is — so happy and secure. I got up with the family yesterday morning and witnessed the frenzied packing up and eating breakfast, making coffee and heading off for the day. Mark takes Paige to day care which is near the office of the landscaping company for which he works. Jayme leaves a bit later for medical school at Berkeley. I wish I was closer to help out once in awhile, but I am so proud of the way they are pulling this off.
Here are a couple of gratuitous photos of Paige.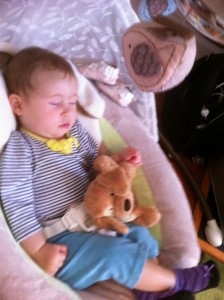 Here she is asleep in her swing which rocks her and makes pretty music. That is her special puppy that she likes to have with her when she sleeps.
Here she is, on the floor, just before she had a melt down because she was hungry and Mom was late coming home from her stint at the ER. I fed her some rice cereal and she was happy.
It was fun spending time with Lisa and Clay, too. They came over on Sunday night for dinner and we watched the Giants win.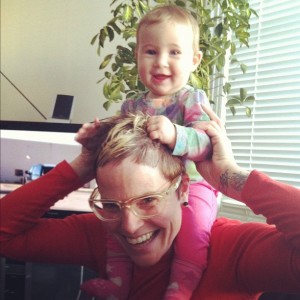 Having fun with Aunt Lisa.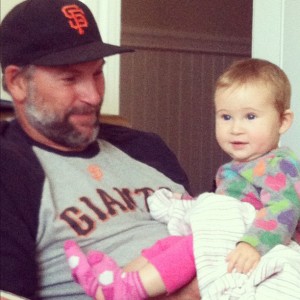 Lisa gave me a couple of gifts from her trip to Scandinavia. This cup says mother in Swedish.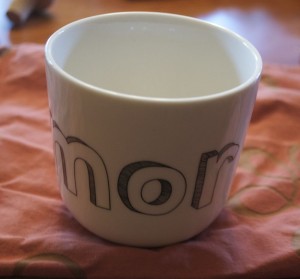 And these are corks for wine bottles. Pretty cool!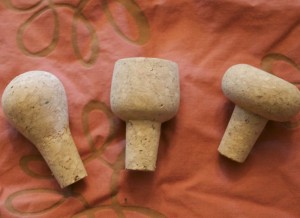 I made it down to the studio this afternoon and got caught up on 3 x 3s.