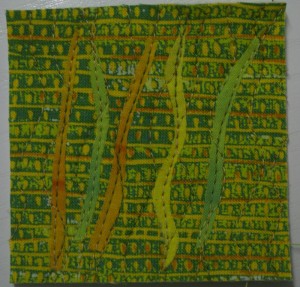 I had a minor disaster yesterday. I lost the screw from the hinge on my new red glasses. I know there are repair kits, but these were so new that I wanted to make sure they got repaired properly. That was not my disaster. I went out to the Kaiser Vision Center to get them fixed after lunch. I also stopped at Macy's to find something to wear to my upcoming semi-fancy holiday events. I found a nice glittery gold sweater that I can wear with black or brown pants. That was easy.
I got home with just barely enough time to dial in for an SDA teleconference with the San Antonio conference staff. My computer was not behaving. I couldn't open mail where the e-mail with the phone  and code were. It said I had to close mail and restart to repair the index. It proceeded to download over 10000 e-mails, most were in my delete file. It took almost an hour to get the e-mail working again. Some of the retrieved e-mails were totally blank. So that was my disaster. I missed the tele-conference and had to apologize to every one.
This morning we were to have new insulated honeycomb shades installed in the kitchen. He was supposed to come between 9 and 11. At 11, I made a call to find out what was up. He was running late which was a problem because Scooter needed to be taken for a walk, Mr C had a dental hygiene appt. and I had a hair cut appt.  He turned up at 11:30 and took no time at all to do the install. Scooter got walked and we made our appts. The shades are beautiful – bronze in color – to match the woodwork and the granite counter top. I loved the curtains that I had made from a mid-century fabric, but they got too messy over the sink. We decided we wanted a cleaner, less fussy look.
I have been working on the next and last 12 x 20 piece for the Twelve blog. The theme is sweet. I came up with jazz as my quilt theme because you know, jazz is s-weet! Here are some of the fabrics I am working with and for once, I am not going out to buy more batiks.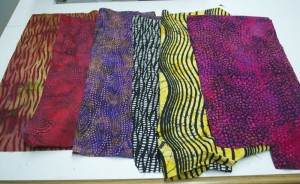 I am having fun working on this. The reveal is 12/12/2012!!
Here is today's 3 x 3.