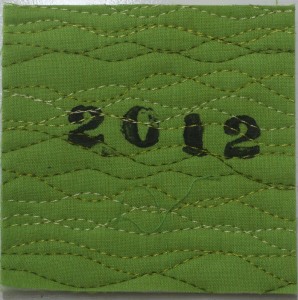 Happy New Year! Things are winding down here in Congdon land. Paige and her parents tried to leave this morning, but their flight was canceled and they ended up on standby for a flight at 3:15 this afternoon – scheduled flight was 10 am. They are home now, with out luggage, but home. I miss my little mini-me so much. We really had a chance to bond and get to know each other. We will for sure be going to California for her first birthday at the end of March.
This was such a good year for us — I almost hate to see it end. I prevailed at doing a daily art exercise, Paige joined our family, Mr C and I took some great trips and spent some wonderful time with family, I had several quilts juried into shows, the 12  X 12 quilts continued to entertain people, Obama got re-elected, and I got to have my work featured in Art Quilting Studio.
My word for 2012 is Forward, the word that the Obama campaign used. To me, it means continuing the work and the progress I have made this year.
Here is yesterday's 3 x 3: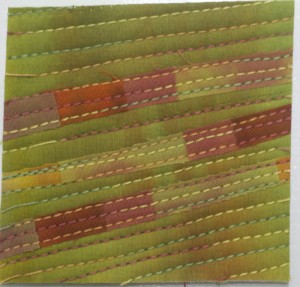 This is the complete December collection. I really enjoyed working with yellow-green. I have tons of it in my stash!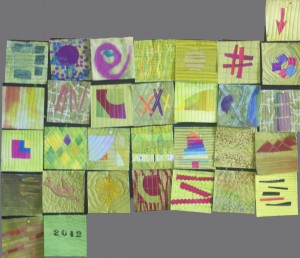 And here is the complete year!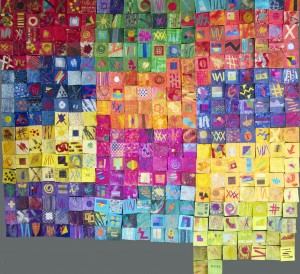 My plan is to finish the edges, perhaps by coating them with gel medium, then I will stitch them into a complete installation which will look different than the photo above.
Lisa and Clay are at Stephanie's tonight, having a movie marathon and eating fun food and sipping bubbly. Mr C and I went to a 5:30 showing of Les Miserables and then came home to a light supper and bubbly. I don't know if we will make it until midnight. The movie was every thing I had hoped for. I was riveted and did not bring enough tissues. A triumph of the human spirit.
Happy New Year to all of you.
May the road rise up to meet you.
May the wind always be at your back.
May the sun shine warm upon your face,
and rains fall soft upon your fields.
And until we meet again,
May God hold you in the palm of His hand.