This post is for my friend, Judy in Georgia, who will soon be able to shop at Trader Joe's. Last week when I went shopping there, I took some photos so that I can share some of my favorite items.
I just have to say that lately, Judy has been making me feel like a slug. She was in her kitchen last night at 9:30 making homemade hand lotion for goodness sake. Terry, my friend here in Portland, and I haven't been doing much of anything. I have come to the conclusion that the amount of sunlight one receives in a day is in direct proportion to the amount of energy you have to expend on doing stuff. Of course, Terry has a good excuse, she is happily waiting for her first grandchild to arrive.
So here, for Judy, are some of my fave TJ items. My caveat is that some items may not be available in other areas.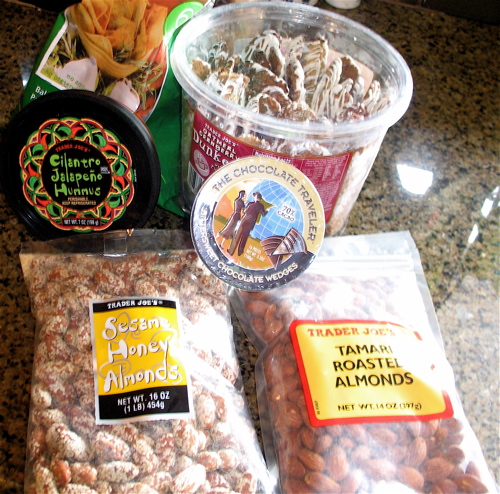 Snack foods: sesame honey almonds (for Mr C), tamari roasted almonds (for me), bittersweet chocolate wedges in a round tin ( I keep a tin by my computer), cilantro jalapeno hummus with pita chips and oatmeal cranberry dunkers.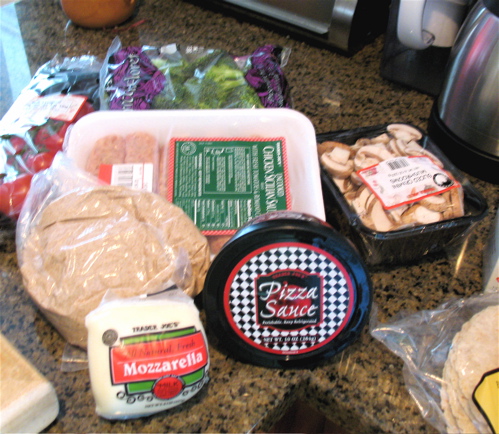 The makings for pizza: mozzarella, pizza sauce, whole wheat pizza dough, Italian chicken sausage, broccoli, mushrooms and tomatoes.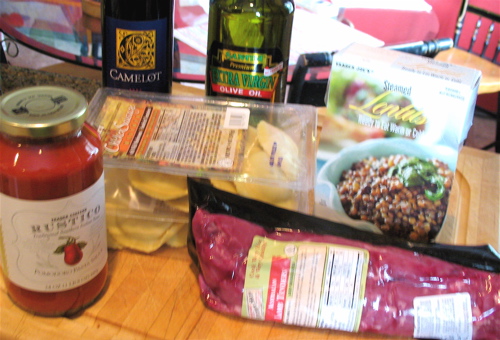 Dinner food: chicken sausage raviolis and marinara sauce, lamb tenderloins and lentils and olive oil for many uses.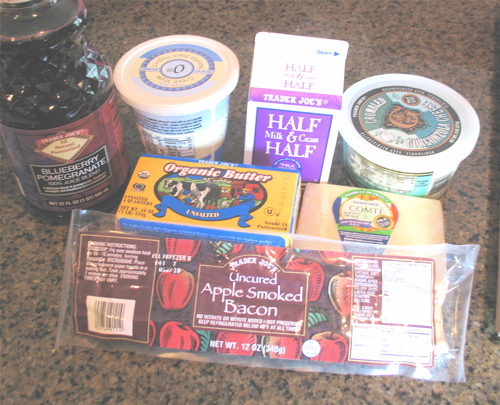 Breakfast and dairy: Blueberry pomegranate juice (yummmmmm), Greek yogurt that is really thick (I buy the 0% fat, but you can get low fat and full fat), half and half for my coffee (which I buy at TJ's), butter, gorgonzola cheese, Comte cave aged cheese, and uncured bacon.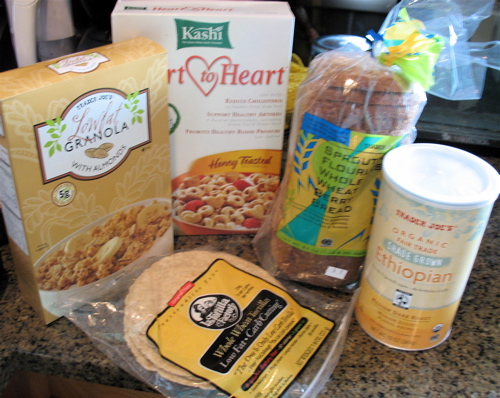 More breakfast foods: I love the Kashi Heart to Heart Cereal and the low fat granola, there is the coffee and whole wheat tortillas and the best non-flour sprouted wheat bread.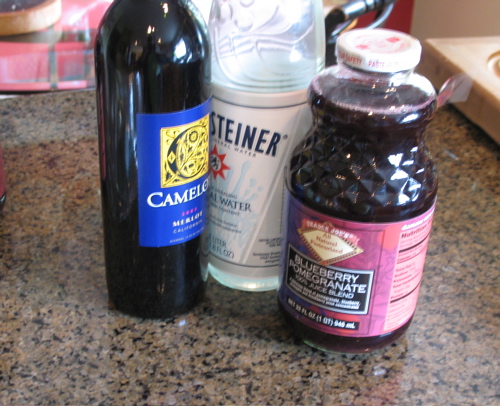 In addition to the juice, we love the Gerolsteiner bubbly water and we buy lots of wine. Many people go to TJ's just to buy the Two buck Chuck wine (Charles Shaw), but I am a wine snob and I do not buy it. I once heard the owner interviewed and I didn't like him – so there.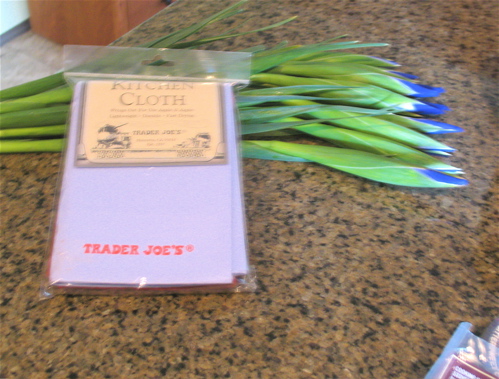 Non-food items. There are many non-food things at TJ's. I buy flowers and these fantastic dish cloths that come in great colors. I buy my laundry detergent and many personal hygiene items. They have a great vitamin selection at great prices.
There are some great things in the frozen food department — Soycatash (succatash made with edamame), and other veggies. Mr C calls TJ's the bachelor's friend because of the prepared food that he can bring home and nuke.
So, Judy, I hope I have given you an idea of the great shopping experience awaiting you.
Last week, I was on the REI website to order an e-gift certificate for my son for his birthday. Suddenly, there was a blurb for a sale on Crocs — lime green Crocs. They arrived in the mail, today!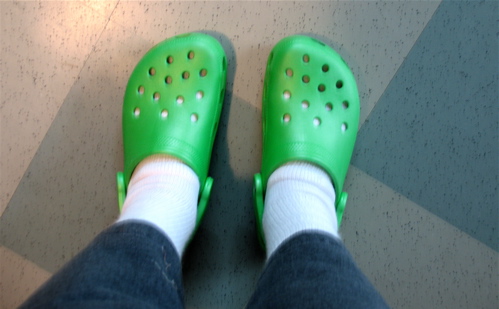 Mia had an earache and was up all last night so they didn't come to stay over tonight. I'm hoping they can come tomorrow. We are watching, Proof. Mr C, the mathemetician, just told me that he loves the movie!