First, a postcard that I finished today. This is hand-dyed fabric with Angelina fibers and copper Tinsl with a tulle overlay.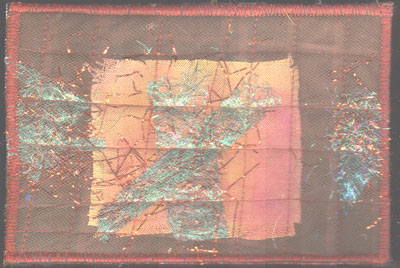 Now, the question of the day. Mr C went to a volunteer training at the Oregon Food Bank. He came home and asked if I would be willing to take part in a program sponsored by the Food Bank, eating on the equivalent budget of those who receive Food Stamps. The program is designed to help people understand how difficult this is so that they can be more effective at fund raising for the Food Bank and lobbying the government for more help.
A very lofty goal – right? How much do we get to spend? $3 per person per day so double that for the two of us. You can't use food you already have in the freezer and pantry. I suppose you can use some staples – like seasonings and such.
Could you do this? I have real doubts that I could do this and not turn in to a low blood sugar witch – maybe change the beginning letter to b. When I went to shop this afternoon, I started looking at the cost of fresh fruits and vegetables. A small head of cabbage was 2 pounds and cost $1.49. A can of black beans can range from 49 to 98 cents. Bananas were 49 cents a pound — I didn't weigh them, but I suspect that would be about 1.5 bananas. Wholewheat bread was around $4.00 a loaf and would last the two of us about half a week for peanut butter sandwiches for lunch. I could cook up some brown rice. A whole chicken costs about $4.00. I could roast one and stretch it for 2 or 3 days. I would have to give up yogurt and pomegranate juice and have oatmeal and applesauce for breakfast. And coffee! What will I  have to use to make coffee?
If we do this, it will be at the end of April. Mr C says he wants to do it whether I do or not. I said, you know that means no vodka or wine! I thought we could adopt M & M for the week because that would double our funds and they don't eat much!! So, let me know what you think. Share your ideas with me. I know I would want to clip coupons which I don't normally do. But do most food stamp users have access to coupons and can you use them with food stamps? Come to think of it most coupons are for those fancy over-packaged and over-processed foods.
Here is the other post card I finished today. This one has hand dyed fabric with a turquoise screen print and Angelina fibers and tinsl captured under tulle. Beads have been collaged with Golden's gel medium.