What have I been doing. Well, yesterday, I had the joy of getting my teeth cleaned and getting an AOK!! I laughingly call myself a dentist's annuity because I have so much dental work. But, yippee, I have only a couple of fillings that might need to be replaced in the next couple of years.
Today, I cleaned my studio and put away a lot of stuff so that I can start a new project or pick up a wip to work on. I need to do some tidying in the office/playroom because M & M are coming to spend the night and will want to play down here. I like to have a neat work space, but I find it very difficult to keep it that way. I hate to do house cleaning.
I also added stuff to two more Round Robin collages, but they are so not my thing that I am just not going to show them. I sent them off to the next person today.
Terry has been blogging about her trip to Mexico. She generously brought gifts from her trip. She gifted everyone in STASH with the silver hand milagro. The cross is for my collection which can be seen here.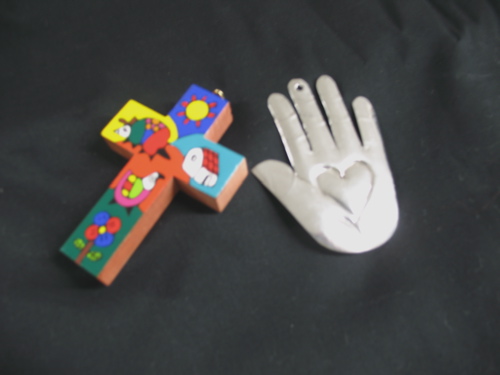 The students at Reed are still putting out flags. I went by and chatted with them this afternoon. Here are the remaining flags and photos of what it looks like now. See my March 4th post to find out what these flags represent.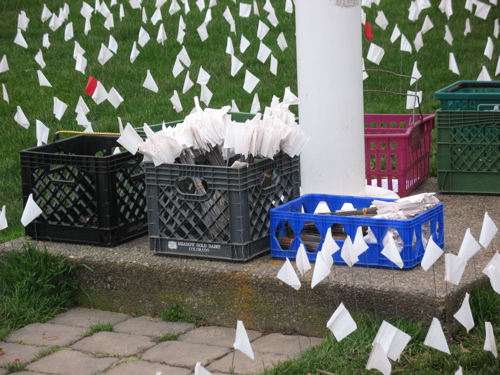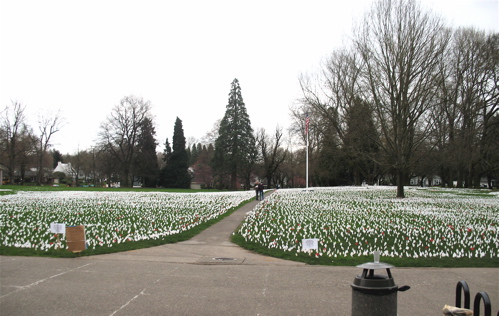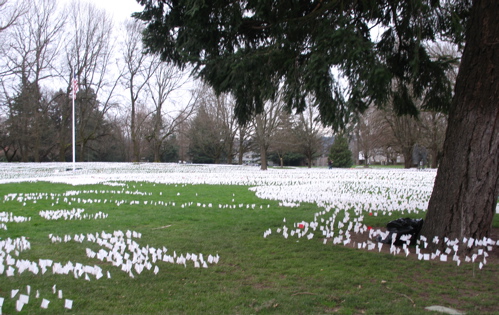 I feel very somber when I walk through the flags. I feel so bereft for our country and what we have become. Today, I heard a Republican senator say that if we bring the troops home, the terrorists will follow them and fight us here. This does not make sense to me. If they want to come and fight us here, why don't they do it now when all of our resources are over there? Anyway, they aren't fighting us any more — it is a civil war and we created the atmosphere for the foment.
I decided that I wanted to do something to protest the whole situation, and I have a plan. Stay tuned and in a couple of weeks, you, too, might be able to participate.