Back update: I saw the Doc this afternoon, and he feels that it is just a muscle strain in my upper back. I am to continue icing 3 times a day and double up on the Advil. I am going to try some stretching exercises to loosen up my tight muscles. I am thinking of getting a massage appointment tomorrow if I can.
Some really good news — I sold my first quilt off the website last night. Square Dance is going to live in Astoria, NY. The buyer found me through Lisa's blog.
This morning Terry, June and I had our crit group. I took my Fragments piece. Overall, I got very high marks, but they suggested some design changes that I agree with so I will be doing a little tweaking. Terry showed us a beautiful mandala quilt from 2004 that is quite large and uses her special fusing technique so that it looks pieced, but is not. June had a gorgeous whole cloth painted landscape from her artisit in residence at John Day Fossil Beds. It was quite wonderful.
I am still sorting beads (almost finished!)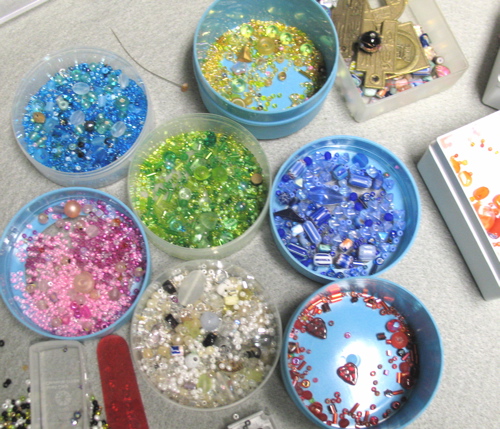 A few days ago, Brenda of Serendipity Patchwork posted about the book "Landscape in Contemporary Quilts" by Ineke Berlyn. The cover shouted Ton Schulten, the Dutch landscape painter, whose work I love. So, I went directly to Amazon to order it and of course the Amazon wizard who knows me too well, suggested that I might like the "Quilt Visions 2006." On the cover is Patty Hawkins piece which I love. Her Aspen quilts have always inspired me.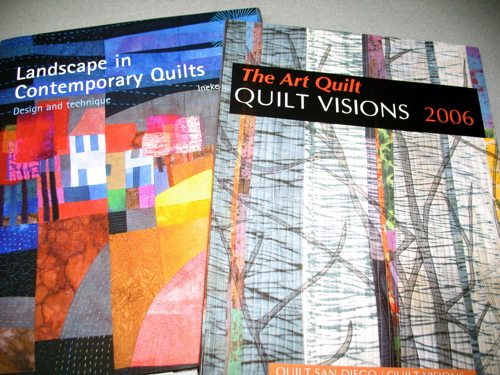 On the cover of Ineke's book, you can see the Ton Schulten look alike quilt and inside, I found that she had indeed been inspired by his work. She pieces the landscapes from vintage and home decorator fabrics. The trees are fused on afterward. This is not the only style of landscape in the book. I found that so many of the landscapes in the book coud have come out of my head – I mean things I have thought about and haven't done. Does this happen to any of you? For instance, look at this felted landscape – so lovely with the stitching. It is what I have wanted to do with the roving I bought in the fall.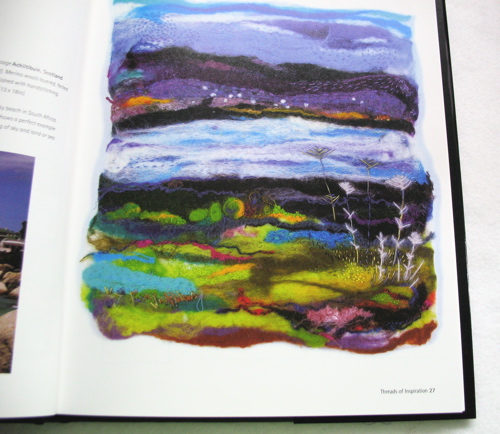 I find myself drawn to so many styles of work that sometimes I don't know where to start. I really loved many of the quilts in the Quilt Visions show that use cool surface design techniques like discharge, shibori and digital images printed on fabric.
We are having some nice sun breaks and spring is in the air. I am getting used to the new time. If I can work through the back pain, I will be back in the studio tomorrow.