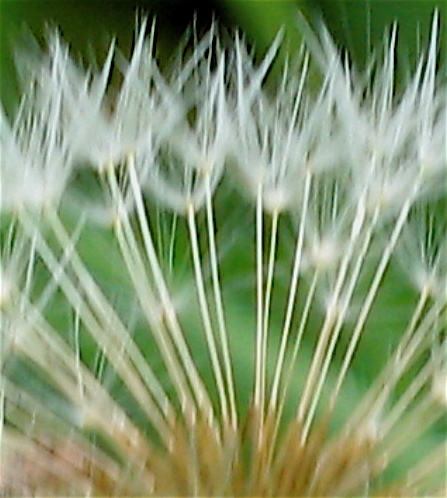 This is a closeup of a dandelion gone to seed. I love seeing how each little seed is formed. When you think of how many seeds there are in one dandelion, it is no wonder that they proliferate every where.
I decided to post this bit of fluff because I don't have anything else to show you!! And I am currently studying dandelions in preparation for making a thermofax screen for my dandelion challenge for the 12 X 12 group.
I am happy to say that I am down another pound this week. I am on track to reach my goal before my big birthday next year. I was hoping to be down 20 pounds for my birthday next month, but it will take a miracle!!
Yesterday, I had critique group with June and Terry. You can read about it on Terry's blog and see a photo of my rear end which, I think, is getting smaller. I took my Global Warming piece.

I was very happy with their most positive critique. Today, however, I got a letter that it was declined from the first attempt to enter it. I will try again!
I just finished the artist statement, sleeve and labels for the Journal Quilt. It is leaving town tomorrow. Way ahead of schedule for me!!
On my list of to dos is a major clean up of the studio before I can start on my next project.