I finally got the big Epson printer to work. This printer takes 7 ink cartridges. When I print on fabric, I like to use the matte black instead of the photo black. Sometimes, the printer does not get the message that I have made a change and that I wanted to make a change. It will not recognize the new cartridge and keeps telling me that I have to change the settings, which I have already done. It finally worked and then I didn't like the result and had to start over.
I can not show you the final journal quilt, which has to be 17 X 22 inches. But I will show you the parts! The theme is architectural grids – particularly, Seattle. I am using this discharged fabric and the other fabric is a painted fabric.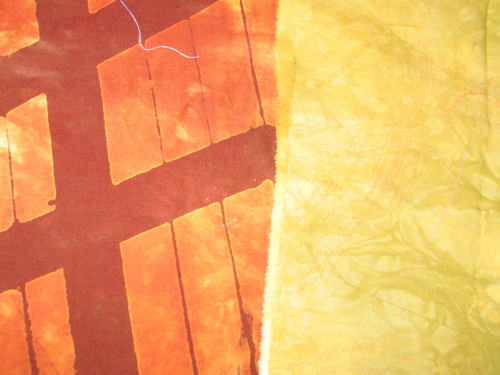 I took a photo of the skyline of Seattle from the ferry which I played with in Photoshop and printed on fabric. The first print was too washed out so I printed it again on a tighter weave cotton and pumped up the color saturation.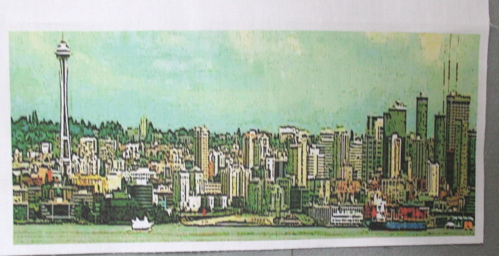 I had a photo of the space needle reflected in a high rise which I took on our trip last summer. I played with the color of this and printed it on organza.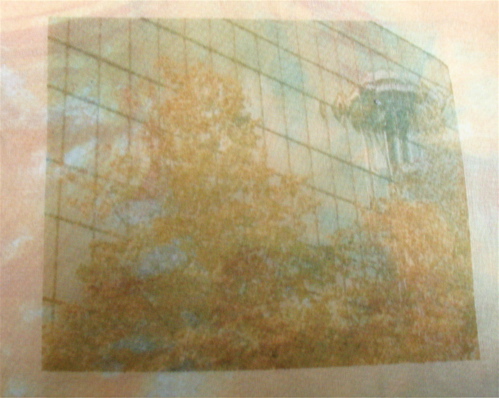 Last summer when we were in Seattle, we toured the new library. I love the grids in the architecture and took some photos with plans to create some thermofax screens. Here is the original photo.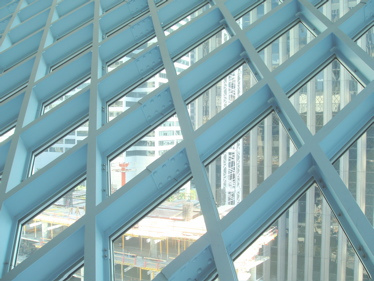 I made a screen of this and I am not totally happy with it. Maybe because of my attempt to screen on copper mesh!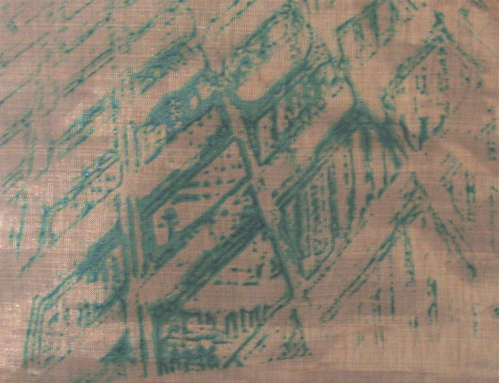 Well, that is all I can share with you. I had to take some time out today to run down to Trinity with some tablecloths and stuff to set up the Arts Commission tables for sampler Sunday, tomorrow. I might get a little bit of work time tomorrow, but I have a few things to finish for the Japanese Garden show. Then I have to get everything ready to take up to the Garden for set up on Monday morning. Then it is back home to get ready for our EFM group to come for a dinner get-together to kick off our fall season.
Today, I remembered to take my camera when I took Maggie for a walk. These were taken on the Reed College campus. This is an installation with large hot pin letters on the front lawn.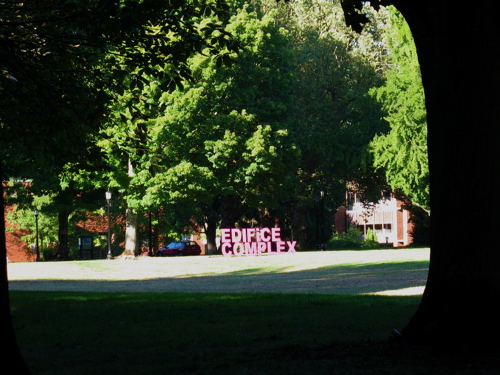 This is the second time and the second place that I have seen this bunny — wonder what this is about?