I am starting with a bit of a rant, tonight. At 9 pm EDT, what were you doing? I was not watching our pig-headed president once again try to scare us into believing that leaving our troops in harm's way is a good thing. Mr C and I could not bear to listen and so we watched an HGTV re-run. Does anyone believe the report that was given to Congress? I feel so sad for the Iraqis who have been killed and who now live in terror — captives in their homes, if they have not fled where they now live as refugees in another country. Most of the time I just don't want to deal with this. I want to pretend that this chaos is not continuing in the name of operation Iraqi Freedom. Is it best to sit idly, waiting for the end of Bush's term? Or should we start hitting the streets, as we did during the Vietnam war?
Next on my list is a report in on my weight. I lost almost a pound during the last two weeks. I missed a weigh-in last week because I was partying with Mr C. It is slow, but going in the right direction.
I am so behind in answering e-mails and comments on my blog. I have had a very busy week. I also am having a major sinus allergy attack this week.
This morning was STASH, the small group that I meet with once a month. We met at Reva's, and she made us an incredible lunch of grilled veggies, a garbanzo/kidney bean salad and a pasta salad with shrimp. This was finished off with a plum crisp , made with plums from the tree in her backyard.
In between meetings and other things, I have been working away on the Journal Quilt. I was so depressed with it last night when I went to bed. This morning, I came down to pack up stuff to take to the meeting and thought maybe it wasn't as bad as I thought. My quilty friends gave it a thumbs up and made me feel a little better about it.
Tonight, I finished the quilting and I think that has helped pull the piece together. Here are a couple of more sneak peaks. I was looking through some of my fabrics and found some grids that I had screen printed in Rayna's class. I thought they referenced the high rise windows in the skyline of Seattle.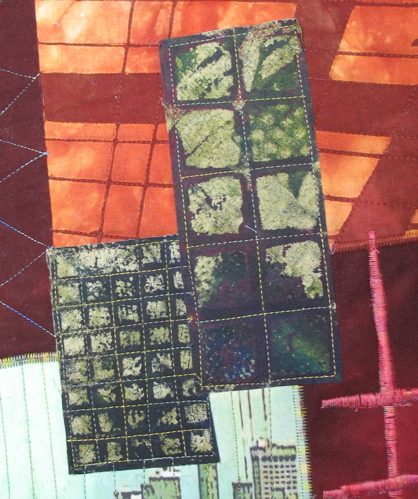 Here is the reflection of the space needle in a high rise, printed on organza and quilted. I love how it looks.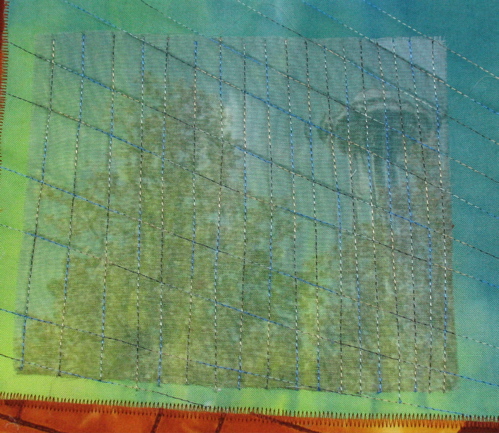 Tomorrow, I am going to work the show at the Japanese Garden in the afternoon. Congrats to Terry who had sold two pieces as of yesterday. I am going to try to sneak some photos of the show. We are not supposed to take photos of the work, but I think some long shots will be ok.