First, here is the gratuitous cute puppy and grandchild photo. Mia and MIles were taunting Wilfredo with their brown rice cakes through the front door window.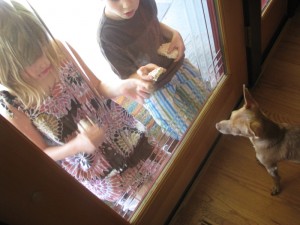 That was yesterday. After everyone left, yesterday, I started another piece for the SAQA auction. The first piece I did had to be trashed.  I managed to save the hand stitched area which I stitched to a new background. I used some of my new Elin Noble Perle cotton and added some other embellishments. It is still called Copper Highlights. I have to overnight it to its destination tomorrow. But, I was determined to participate this year and whew, I will make it.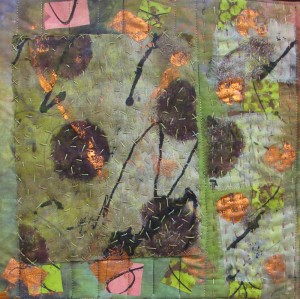 Here is a detail: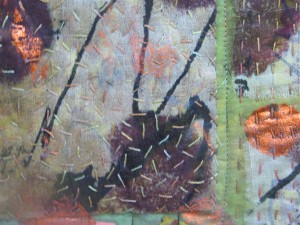 We are closing in on finishing the bathroom. Most of the lights were installed today. The granite was installed yesterday. My mirrored door over the sink had to be redone as the mirror cracked when he was adding the pull. Vladimir needs to finish some tile trim. Supposedly, everyone is coming back on Monday to finish everything. I will believe it when I see it!! Anyway, I will reserve taking any more photos until everything is finished. We were excited to get lights and power. The room looks heavenly bathed in light.
Lisa has been busy today visiting friends. We still haven't started our machine quilting lessons — that is scheduled for tomorrow afternoon after she and Steph take the kids berry picking on Sauvie Island.