I am back home, sitting on the sofa with Lisa, who arrived from SF this morning and spent the day with Mia. She is ripping quilting stitches from a baby quilt and tomorrow, I am going to give her a lesson in machine quilting. I will post photos!
We made one last trek to the APNQ show, had lunch at a street creperie and then took the bus home. I took new photos of some of my favorite quilts and mine, too. Here is a better shot oh how mine looked.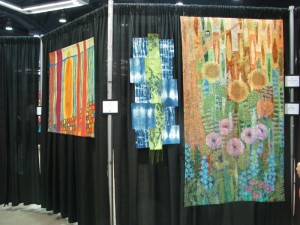 Look at this wonderful quilt done by Terry's sister-in-law, from the pattern, Delft Tiles. She used a variety of black and white prints. She won third place in applique.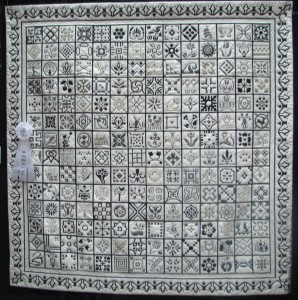 Detail:
This beautiful applique quilt was done by friend, Virginia O'Donnell from Portland. It is title Little Brown Birds.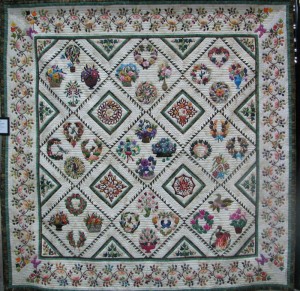 These two quilts were my favorites. The first is titled Warmth and was made by a Japanese woman as part of an exchange.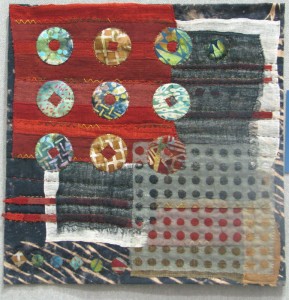 And this silk, with wonderful beading, which won and honorable mention. It is by Patricia Goffette.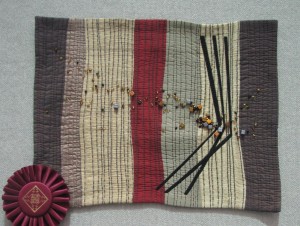 Here are my crepes being prepared.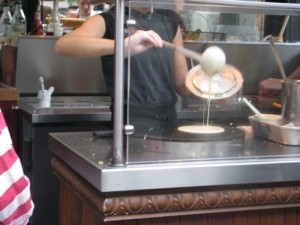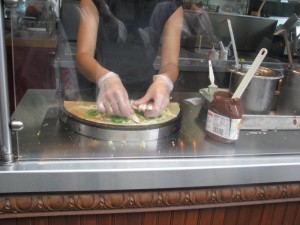 Mmm, good. Tomorrow, I will share my favorite purchases from the vendors.