Soy wax! Today, I organized a play day with soy wax batik for my High Fiber Diet group. We have been floundering ever since the Japanese Garden Show was taken from us this past year. We had a really good, soul searching meeting last month, trying to decide where we want to go and what we want to do. We didn't really know each other well. We met at night and sat in clusters of friends. We decided some days of hanging out together to make art would be good for feeding our creative souls and firing up the friendships of the group. We also decided to move forward with plans to mount a show.
Today was great. Every one who came seemed to really enjoy the chance to mess around with wax and paint. We had a very productive meeting at lunch time. We actually have the opportunity for a show at an art center here in Oregon. We decided on a theme. We are moving forward. We are building trust. We are learning to laugh together.
So, I am feeling very happy tonight. Here is some of the work. The morning was spent applying wax to fabric, using lots of utensils and objects. After lunch, they added the painted layer and started the process of removing the wax with a hot iron, between newsprint. This sets the paint while you remove some of the wax and then, they can be washed with warm water to remove all the wax residue.
This is the demo piece that I did. It was that warm brown before. I painted it with turquoise and black. I had to give up my pan for a table that didn't have one so this was all I did. But, I had a great time walking the room and schmoozing.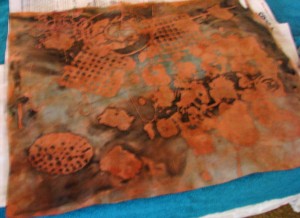 This piece shows the wax design before paint has been applied. I love this. I believe Mary Arnold did this one.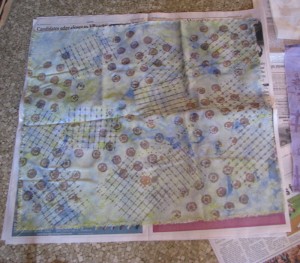 Here is Zee applying paint.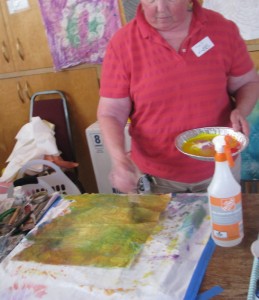 This piece was painted in beautiful colors. I don't have an after ironing photo. I think this is Chris's work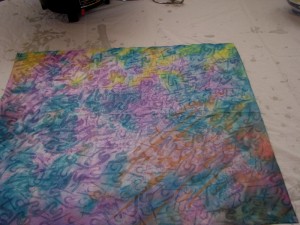 Here are a couple of shots of Terry's work. She said the day was very therapeutic for her. She has been spending so much time moving and dealing with fixing up old and new houses.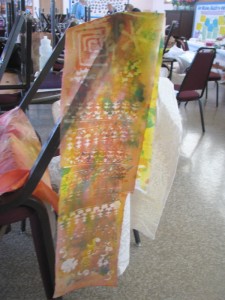 This piece is very zen!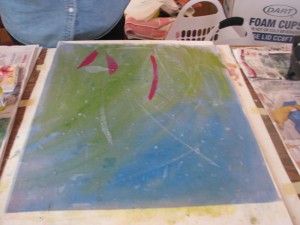 In this photo, you can see the before and after of a commercial fabric that Terry transformed. Cool!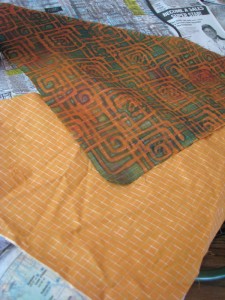 Terry had some neat little mark makers that she made out of bent wire.
Amy made these wonderful pieces with dupioni silk, using half a walnut shell!!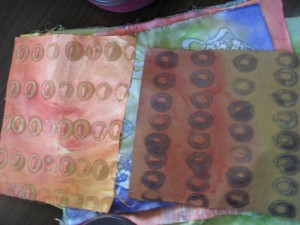 If you would like to try soy wax batiking, I highly recommend Rayna Gilman's book, Create Your Own Hand-Printed Cloth. You can order one, signed by her here or go to Amazon.
Soy wax is non-toxic and washes out with warm water. Lots of fun!!
I'm off for the week-end. Tomorrow, we have a reunion get together with the Oregon contingent of the Israel pilgrimage. On Sunday, I am heading out to the gorge with the arts commission from Trinity for a working retreat to plan for the coming year.
I am guessing it will be Obama/Biden. I am very happy, if that is the choice, but I will trust in his decision, whomever it is.