We have had pretty lousy weather for the last few days. When it gets overcast in the summer, I wilt. I need the sun for energy. This afternoon, it came back, and it was lovely.
I have had some good things going on, despite the weather.
Some Good Mail: I found a manila envelope in the mail yesterday from my blogging/complex cloth friend, Kathy Sands. She saved hundreds of dryer sheets and dyed them. Then, she had a contest to guess how many there were. I was way off, but she sent me some anyway!! I am going to find some fun uses for these.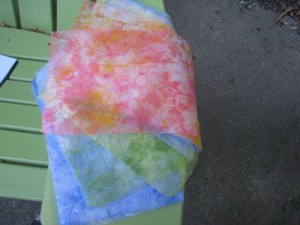 I had forgotten that I ordered Laura Cater-Wood's new workbook -Idea to Image, Tempting Your Muse. It arrived last week, and I am looking forward to using it to get my creative juices going.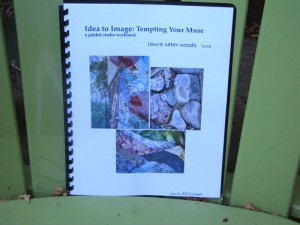 Trying a New Technique: I have been itching to try rust dyeing. I love the look of rust dyeing combined with indigo. I had a scarf that I had done last year in the Indigo Dyeing class which was sort of wimpy. I decided to try rust dyeing with it. When we dismantled our bathroom for the renovation, I hung on to the expansion metal pole with baskets for shampoo etc, because it was rusting. I have wrapped the scarf around it and secured it with steel wire. I soaked it with vinegar water. I will keep it damp for a few days and see what happens.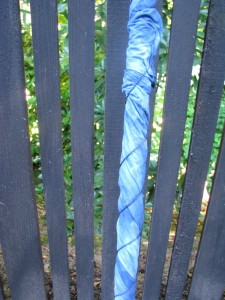 Shopping for the Bathroom/Closet Renovation: We are getting close to the end of the bathroom/closet work. Yesterday, we ordered some FLOR carpet tiles for my little walk-in closet. I chose the heathered, brushed felt in dusty turquoise. I am in love with this and can't wait to feel it under my bare feet.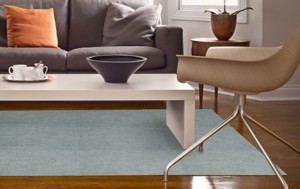 Then, we headed out to the Container Store to order the fixtures for my closet. A very perky and competent designer plugged the closet measurements into the computer and away we went, designing the storage that I need. There will be shelves able to hold 50+ pairs of shoes, 12 feet of hanging storage and four drawers, plus shelves for miscellaneous stuff. So, it will be similar to this, but a different configuration. Mr C is picking up the elements and will install it after they get the new closet floor done this week.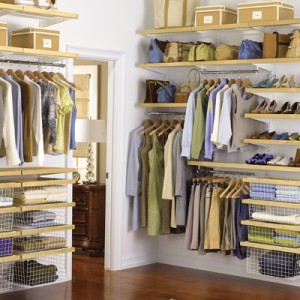 So, lots of good things to be happy about. M & M and their parents are camping until Wednesday and I missed them this week-end. But, I am happy that they are out in the woods having a good time.