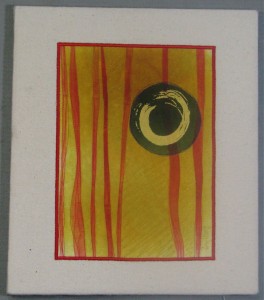 Today was an ordinary day and yet extraordinary. It was a day of tackling mundane tasks and working in the studio punctuated by special events. One of those was the arrival of the piece above, made by Lizzie Berg. She is going to Africa with some kids from her church and to raise funds, you could make a donation to her church and receive one of her works of art. That was a no-brainer for me. This is disperse dyed on to polyester and then quilted on to timtex and then mounted on to the cotton and attached to stretcher bars. The photo does not do it justice. I love it.
I got the machine quilting done on the passion piece and, tonight, I started adding my special handmade embellishments. I also got all the cutting done for the little girl quilt. I love planning how fabrics will go together, mixing patterns and colors — it is one of the things I love about quilting. Tomorrow, I will start stitching.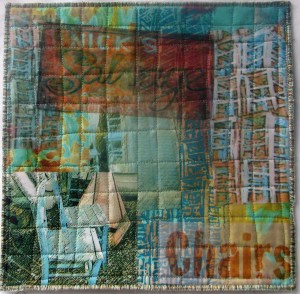 Tonight, I got an e-mail that the above 12 x 12 piece was juried into Foto-Fiber-Fabulous which will be at Fiber Artspace in San Antonio in September. That makes me very happy.
I am just thrilled to have my energy back and to really enjoy my life again. I am missing my day with M & M this week. They have gone camping and will be home on Saturday and will show up here in the afternoon to spend the night as Mom and Dad are going to a concert.