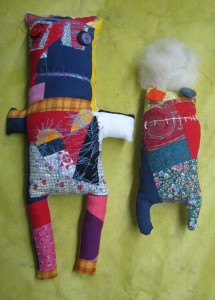 Look at what arrived in the mail today! These were made by my friend Beate who lives in Dusseldorf, Germany. Her beloved beagle, Jeanie, was hit by a car and had to have surgery on two legs. It cost a lot of money so several of her FB and QA friends pitched in to help her get some quick cash. I bought these adorable critters and the door hanger below, from her Etsy shop.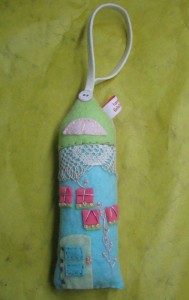 I was rather tired and achy today. Lugging a trunk show of  quilts to and from the house gave me a nasty back ache. I did get my to do list done in spite of it. I took an Aleve and kept on going. The biggest job was getting all the quilts back in their places.
Tonight, I got some work done on a couple of postcards.