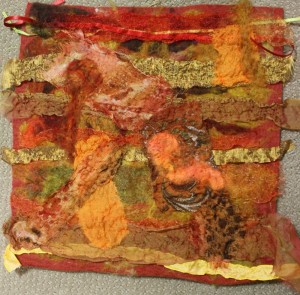 I have continued working on the felted collages, using a hand felting needle punch. I bought more needles yesterday and tonight, I am down to one. BUT, I am having fun. I have some machine felting needles on order. I hope they get here tomorrow or Saturday so that I can finish these. I probably won't show any more work on this until the reveal on June 1.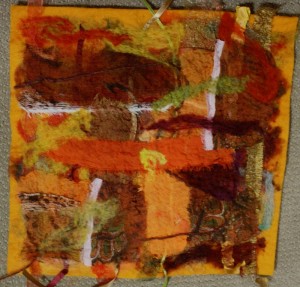 Lyric Kinard has a post and some photos of the PAQA South ARTQUILT Movement on her blog. You can see my Prairie Fields hanging with some other gorgeous quilts.
Our Twelve by Twelve book has a review in an art, not a quilting, magazine — AmericanStyle Magazine — very exciting. Click to see it on line.
The rain continues, but we are hoping for some sunshine and warmer temps this week-end. Considering the horrible weather events in other parts of the country, I really don't want to complain!