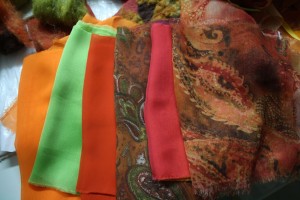 I started work on my spicy piece for the next Twelve X Twelve challenge. I love the pieces that Jane LaFazio makes. She has a tutorial on her blog. She uses ribbons, sheer fabrics as well as yarn and roving on a prefelt  background. I decided that I needed to make a trip to Fabric Depot for some spicy chiffon and ribbons. I love the paisley chiffons that I found. Remember, you can click on any photo to see it larger.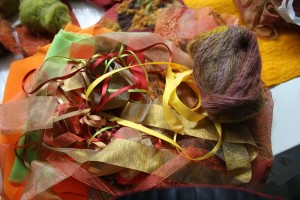 I got my Bernina set up with the felting attachment and proceeded to break needle after needle. Not good as they are very pricy. I could not find anymore needles in the city of Portland so I have ordered some from Nancy's Notions. This is as far as I got on one piece of prefelt.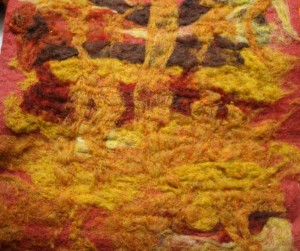 While I wait for the needles to arrive, I have been felting by hand. It is not as fast and not great for carpal tunnel!!
I am still having a lot of SDA work to do. I had a dry spell when the new website went live, but I am now getting to do some of the behind the scenes work on it. I have also been handling registrations for staying in the University of Minnesota dorms at the SDA conference. That job is almost done. The conference, which I am not attending, starts June 4th with pre-confeence workshops.