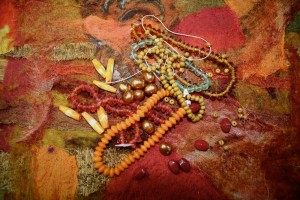 I received a shipment of machine felting needles yesterday that seem to be working very nicely in my Bernina attachment. I got a lot of work done on one of the collages yesterday without too much  breakage.
Today, I went to a bead store to look for some spicy beads for further embellishment. I like the colors and the assortment that I found. I am not sure if or how much beading I might do, but I wanted to have something on hand just in case.
It has been a catch up day here at our house. We did some neatening and cleaning. I did three loads of laundry. Mr C used his new power washer to clean out gutters and clean moss from the roof shingles. We are beginning to wonder how much longer we want to have this place to take care of. It is a lot of work, but we love the benefits of having a home large enough for entertaining and my fabric habit.
I am so excited and happy for my friend Bonnie Bucknam, who won Best of Show for Quilt National 2o11. She is an accomplished quilter and artist. On top of that, she is a very caring and sharing member of our High Fiber Diet group and the Columbia Stitchery Guild.  She has been a driving force in HFD, getting us to create traveling shows every year and improving our professionalism. I am just thrilled that she has been given this honor. You can see all of this year's special award winners on The Dairy Barn FB page.
When I was walking Scooter with Mr C this morning, I came upon this scene that I just had to photograph. I guess we can call it fuchsia snow!
Enjoy your week-end. I am looking forward to some family time tomorrow, with sunshine!!