The ultimate destination of our trip to California was to hear Brahms Requiem at The Disney Concert Hall. Mr c's brother bought the tickets long ago and so we have had this trip on our agenda for quite some time. Mr C has sung this piece with a chorus in Santa Rosa with the Santa Rosa Symphony. We were both looking forward to it. He – for the music; me – for the architecture. I had seen photos of The Disney Hall, but seeing it in person was such a treat. I did not get photos inside, but there are so many interesting details with sensuous curves and more asymmetry.
Before getting to the Disney Hall, we stopped at the new Cathedral of Our Lady of Angels. It was an amazing space with all of the accoutrements of a traditional cathedral. but very streamlined and modern.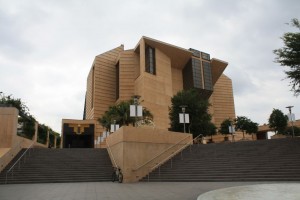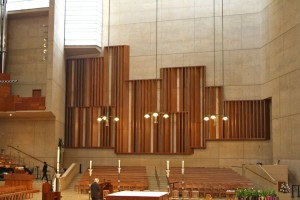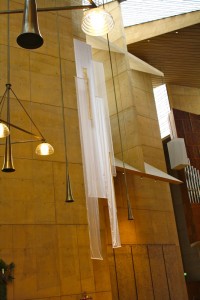 There were amazing tapestries which used real people as models. They were painted on canvas and then digitized and woven into tapestries.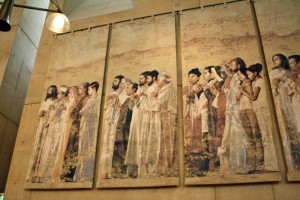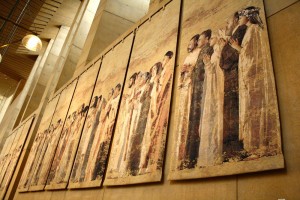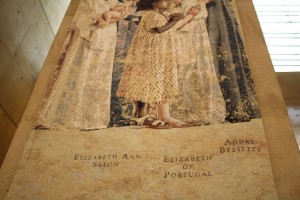 The background of the tapestries were composed of photos taken of ruins in Jerusalem that were then digitized. I love the muted colors of these pieces.
Our next stop was dinner at a French Restaurant. I was on my H. Pylorii meds so I couldn't enjoy the wine, but I had a great meal and big bottle of  San Pellegrino sparkling water.
After dinner, I had plenty of time to take lots and lots of photos of the hall. I will just share a few.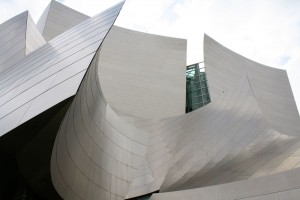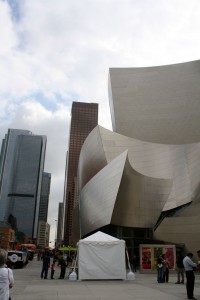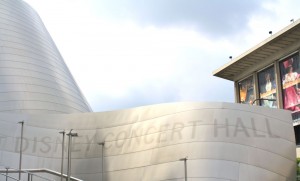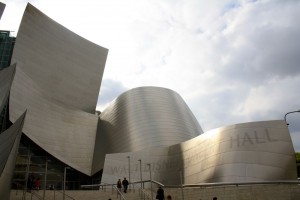 I couldn't resist a photo of the green umbrella eating area outside the hall.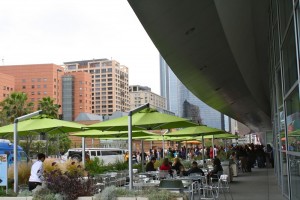 It takes over 2 hours to drive to La from the desert, but we had fun talking and sharing stories coming and going. Next, I will share the fun time we had on Sunday.