When last I posted, we were in Santa Barbara and leaving for our next destination, Twentynine Palms, out in the high desert of CA. Mr C's brother, Mike, and his wife, Ann, live there, and we are always assured of a good time when we visit.
This was the view as we crossed the state from the ocean to the highway to the desert. A very rugged landscape in which people have found a way to build homes and enjoy the wonderful SoCal climate.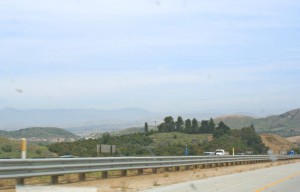 We always know when we are getting near the desert, when the Palm Springs area windmills come into view, presenting a very alien landscape.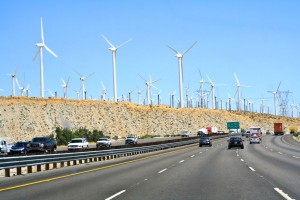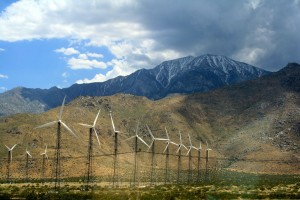 Ann is very involved in the development of an observatory near Joshua Tree National Park. She is the architect and has drawn up plans for future development.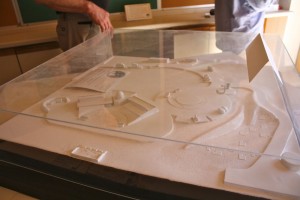 For now, there are a few buildings for on-sight viewing and programs.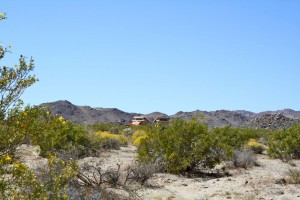 There is a nature walk and a meditation garden. I am so impressed with the volunteer effort and the donation of supplies and materials. One of the volunteers has constructed an orrery – a model of the solar system. Here is earth. But the size of earth in relation to the sun in the orrery is a tiny spot in the center of the metal piece. Local potters have made these lovely orbs.
We had a very exciting visit there because a desert tortoise showed. They are now rare and endangered.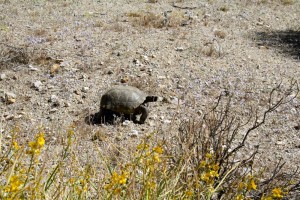 There was quite a bit of spring color in the desert landscape.
Yesterday, we had a fantastic day. We drove into LA for some sightseeing, dinner and a concert at the Disney Concert Hall. More about that later. Today, Mr C and I drove into Palm Springs for lunch. Tonight, Mike and Ann took us out to an amazing art installation high up in the desert landscape. I got some great photos and will share those later. We had supper at Pappy and Harriet's and listened to a great live band. We have had a full two days and are leaving tomorrow totally satiated with good food, good conversation and a wonderful time with friends and family. It will take us two days to get home to Scooter.