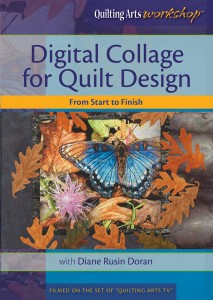 Please do not leave comments. The drawing took place on October 12th.
Diane Doran is an award winning quilter who uses digital images in her quilts. She recently made a DVD about her techniques for Quilting Arts TV. You can see her beautiful work here.
Learn how to:
Combine a variety of image types to create imaginative collages to print on fabric
Use Photoshop Elements 9 for basic digital enhancement and layering techniques
Consider color, value, and contrast while designing
And she explains printing, basting, and finishing options for your collage, and demonstrates ways to enhance your design with quilting, markers, and pencils.
And much more!
Diane has given some of her blogging friends the opportunity to give a DVD away to one of our readers. So leave me a comment if you would like a chance to win this DVD. I will do a drawing on Wednesday.
If you don't win one, the workshop will be available from Interweave for download sometime in mid October and in late October the DVDs can be ordered from Interweave.
Here are the other bloggers who will be giving away one of the DVDs.
October 12 Vivika DeNegre
October 14 Debra Gabel
October 17 Candy Glendening
October 19 Deborah Boschert
October 21 Diane Doran