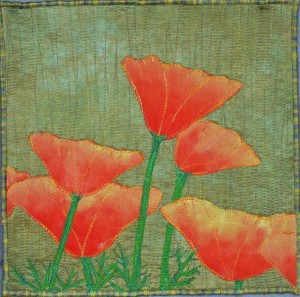 I added some frilly leaves and  finished the quilting on this piece. I took the photo several different places and with different lighting. I am not happy with the  camera I bought to replace the last stolen one. I need to save some money and get a better one.
Anyway I am happy with this. I did the Sue Benner satin stitch edging.
It was a beautiful fall day — sunny and brisk. I took two walks with Scooter. He loves the cooler weather with his nice warm coat.
I have spent a good part of today on the computer doing SDA work. When I finish this, I will watch DWTS and get back to database work.