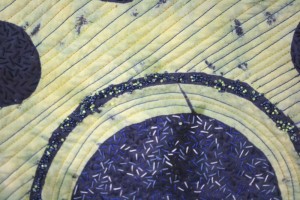 I have just about finished the Alternate Universe piece. I finished the quilting and burying of thread ends. I had done some dorky hand stitching in the two planet rings which I removed. This morning, I added tiny glass beads embedded in matte medium. If you click on the photo you can see them. I did not have the time or the patience to handstitch these beads to get the effect I wanted. I think this works.
I had a great time with the STASH group, minus Suzy who is at PIQF show in Santa Clara. Beth made a delicious lunch. The roasted butternut squash soup was divine. The squash was grown in her garden.
Today, Steph and Mia took me out to lunch at Silk, a Vietnamese restaurant. It was so good. Then we went to the Contemporary Craft Museum to see the Nikki McClure exhibit. I was blown away by the cut paper work that she does.
When my purse was stolen last spring, it had a gift card for $100 for the CCM gift shop. It was given to me as a thank you for hosting Sandra Sider when she was here to do SAQA critiques. It was paid for in cash. The purchaser, my friend Laura, had the receipt which she sent me. I took it in today and they found it on the computer, and I was able to buy myself a birthday present. These beautiful earrings.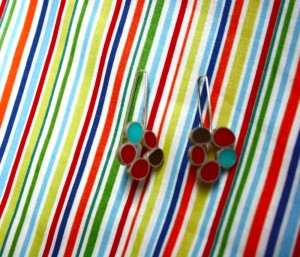 Hope you have a great week-end. We are looking for some sunshine and warmer temps. On Monday, you can click on the link in my sidebar and listen to me on Pat Sloan's radio show — 1 pm Pacific time.