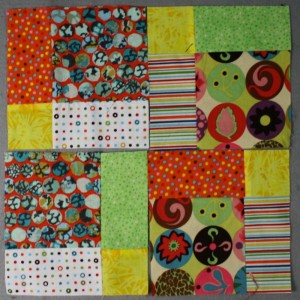 I have heard the term disappearing nine patch going around on blogs and Facebook. I needed a pattern for a kid's quilt and thought I would give it a try. So, this is how the nine patch disappears (in case you are wondering).
You start with nine 5 inch squares which are sewn into a nine patch,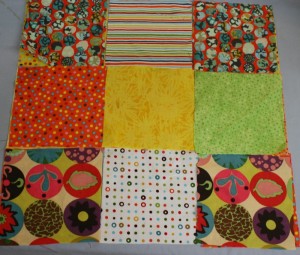 Then you cut it in half lengthwise and crosswise.
Then arrange your smaller squares into a quilt!! And that is how the nine patch disappears. You can see how I have rearranged them in the top photo. Of, course, I have lots of blocks to sew, now.
I had a nice day today. I drove over the river and up the hills to Terry's home. I had not had a chance to see her new studio, yet. They have built a separate building on their property for her studio and a greenhouse for her husband. It is really nice and much bigger than I expected. We went out for delicious Indian food.
Tonight while I watched the Project Runway train wreck, I prepared some scarves for indigo dyeing. I bought some cotton scarves and will be interested to see how they come out.
Not sure when I will get them in the indigo pot. Tomorrow, I am going to make some Beef Bourguignon for Saturday night dinner. It is better the second day and on Saturday, I will be in Eugene all day with Terry and some other artists for our biannual critique session. The dinner party is for Steph's mother-in -law who is visiting from North Carolina. I hope I can pull it off.