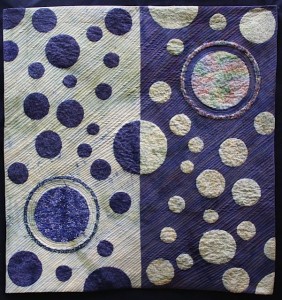 to finish this quilt. The political scene last fall was making me feel as if I had awakened in an alternate universe where everything was upside down and in reverse. And thus was born this quilt. I used a freezer paper template to discharge the blue fabric. I began the saga of hand quilting all of the planets/moons in my fabricated universes. A few weeks ago, I decided it was time to get this done. Today, I finished it, despite feeling quite awful. I have a virus with fever, aches and chills.
Here is a detail: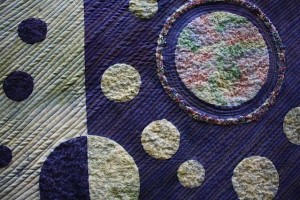 I added a bit of bling by using glass beads in the rings around the largest planets.
It feels good to have finished this. Now, I am going to take another Aleve and go hope I feel better tomorrow.