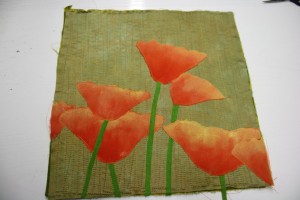 That is more like it. I had an epiphany during the night. So this afternoon, I headed to the studio and painted some silk organza with orange and yellow paint. Here it is drying.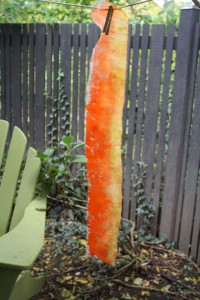 I roughly cut the shapes of the poppies and covered the silk poppies on the little quilt.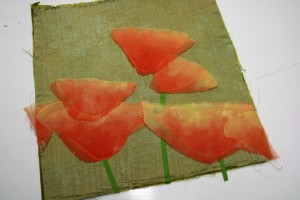 I stitched around the organza, following the outline of the poppies beneath. Then I trimmed close to the stitching with the result up at the top. I am very happy with this. The organza gives a nice texture, too.
Tomorrow, I will do some free motion quilting to define the petals and add some texture. I also want to add some leaves and am working on how to do that tonight – maybe with hand stitching with Perle cotton or maybe with a little green silk and machine thread work. The leaves are very lacy.