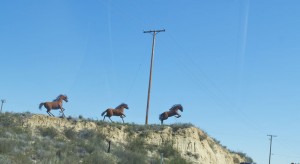 I have been having a wonderful respite in the California desert with Mr C and his brother, Mike, and his wife, Ann. The weather was sunny and warm. I was again mesmerized by the night sky out in the desert. We drove out to the observatory the first night to gaze up at the Milky Way, such an impressive sight.
We had an early departure from Portland and watched the sun rise as we flew to San Diego. We picked up our rental car and had a fun drive on back roads to Palm Desert. The horse sculptures above were so cool. There was one other horse across the road, landing on the bluff. I always love the landscape of California. It is so rugged and diverse.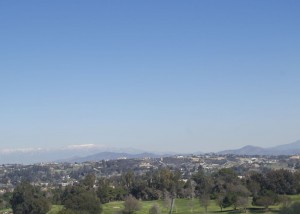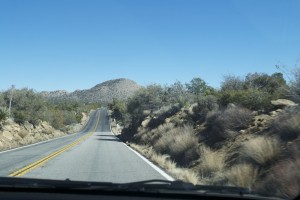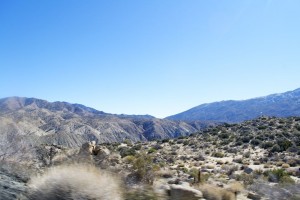 Just before we drove down into Palm Desert, we stopped at a view point high over Palm Desert. You can see the road we would eventually take, snaking through the mountain side. Palm Desert is down below.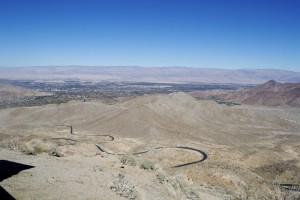 This is  a photo of stately palms lining the street of Palm Desert, where we stopped for a bit and had lunch.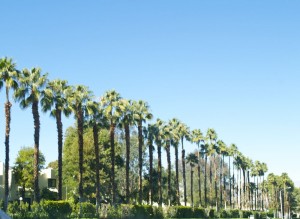 On the way out to Twentynine Palms, I always love seeing the giant wind mills.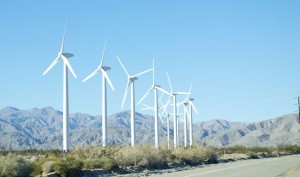 We spent one day, hanging out in Palm Springs with Mike and Ann, visiting thrift shops, having lunch and checking out the location of events we were planning to attend on Saturday.
Saturday was devoted to attending the Modernism Expo. I so enjoyed the show and sale of Mid-century Modern furniture and art. Here are some photos I took.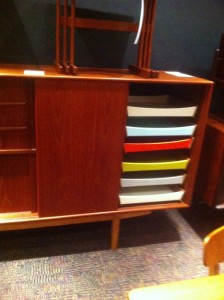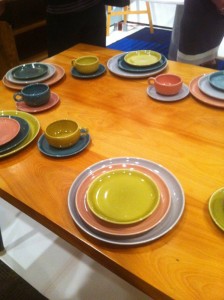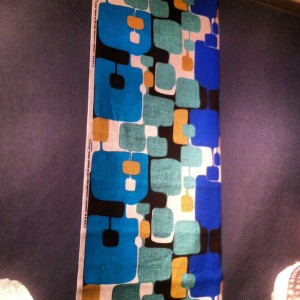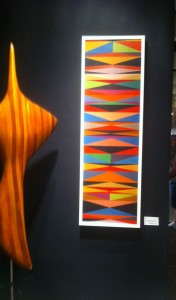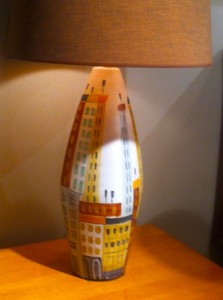 This piece was not really Mid-century, but it was so unique. It is a hand chiseled wood vessel with folds and creases. So beautifully crafted.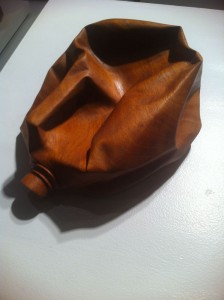 Later, we attended an outdoor exhibit of modern furnishings and finishings and a display of pre-fab houses. The most incredible one was created from a junked temporary school trailer. No photos!!
We also did a quick tour of the Palm Springs Art Museum. The special exhibit was incredibly wonderful constructions from found stuff by the Campana Brothers from Brazil.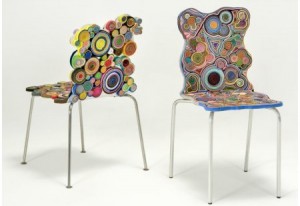 I also enjoyed getting up close and personal with one of Deborah Butterfields horse sculptures. This photo was taken from the floor above. She constructs the horses from old wood pieces. Then it is taken to a foundry where the wood pieces are disassembled and a bronze cast is made of each and the horse is reconstructed from the bronzes pieces. Quite amazing, really.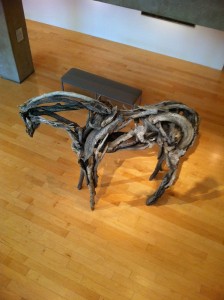 Today, we drove back to San Diego and met up with friends at the Visions Art Museum to see the current Quilt Visions juried show. It was so marvelous. Del Thomas met us there and gave us a wonderful docent tour. Here is a photo of Del with Karen Rips (another Twelve member) and me.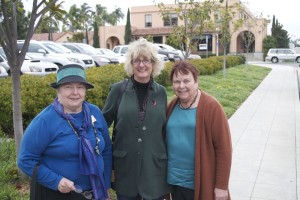 Now, we are ensconced in our hotel in San Diego, watching Downton Abbey. Tomorrow, we are going to the San Diego Zoo. Can't wait to take photos of the animals!