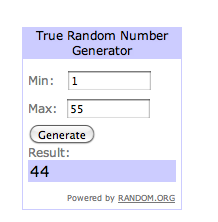 Betty!! Who said:
I check your blog almost daily and it's always interesting!
Congrats on your anniversary! I had to look up Josef Albers art and really enjoy it. I googled images and could see a lot of his work as fabric art. Your art quilt would be a very nice prize! Thanks for the giveaway.
So, Betty, let me know which of the goodies I have that you would like to have and your snail mail address. After I hear from Betty, I will select the second winner. This is fun!!
I finished sealing the edges of all my 3 x 3s.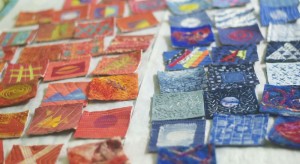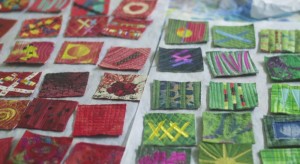 I love how they look in their little piles.
After thinking when I walk, waking up at night pondering and cogitating for days, I have an idea of how I am going to place the squares for the wallhanging. Here is the layout so far.


And look at this! I am not crabby anymore. Every thing is covered with plastic.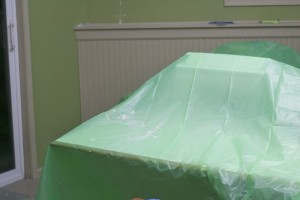 Progress is being made on repairing the hole.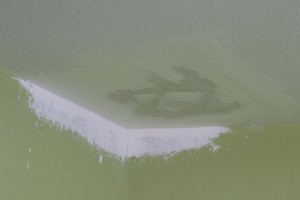 My last two drawings are very uninspired. I need to get a better pen, if I am going to draw with a pen instead of a pencil, which Terry Grant recommends on her drawing blog, Pen, Pencil, Paper – Draw!