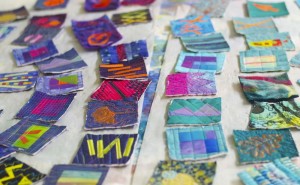 I am having a lovely day reading the comments from my readers. Thank you so much!
Today, I started working on my little 3×3's to get them ready for a final installation of some sort. Since they all had raw edges, I am coating the edges with matte gel medium to seal them and prevent fraying. It is fun to pick each one up and revisit them.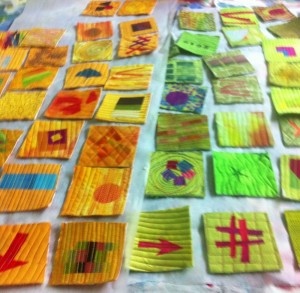 After they get sealed and dried, I am storing them in this bin and then, I will start reorganizing them into a large hanging.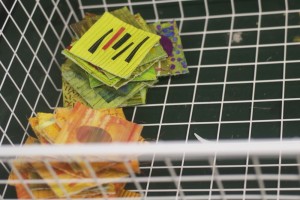 This afternoon, I went to Trinity to jury the artists for our annual Artists Among Us Exhibit and Sale. I set up the photos in Keynote, Macs version of PowerPoint. I was excited to find that I could download the slide show to my iPad with a Dropbox app so that we had an extra device for viewing the slide show. We only juried out 3 of the 64 entries.
Here is today's drawing. I love these water color pencils. I think I need to take a watercolor class.