Happy Easter!!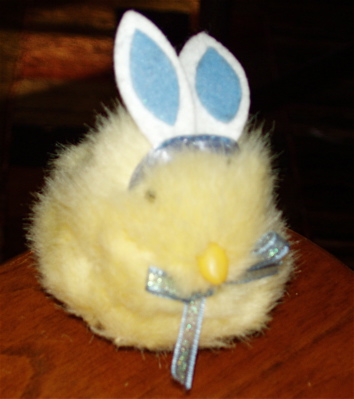 The weather was lousy, but we managed to have a lovely Easter here in Portland. Lisa arrived on Friday night. On Saturday morning I got to go bargain shopping with Lisa and Steph at the Goodwill. I found a blender to use for mixing dyes and Mia helped me select several books for them to have at our house – 49 cents each.
This morning Steph made brunch at her house; cinnamon rolls and a yummy frittata with artichoke hearts. We were greeted by the Mia Duck; the mask was a gift from Aunt Lisa.
The kids table; oh my gosh don't they look so well-behaved, but they haven't had that much candy yet ?¢'Ǩ'Äù just wait!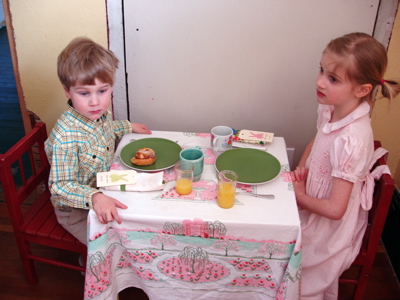 After brunch Grandpa attack: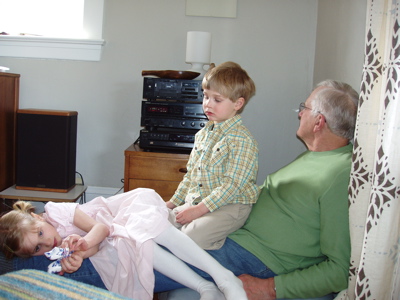 Later everyone came to our house. We started with an Easter egg hunt in the front yard. Just minutes before it was hailing and then the sun came out and in between it was rainy – brings to mind the old adage – If you don't like the weather, wait a minute!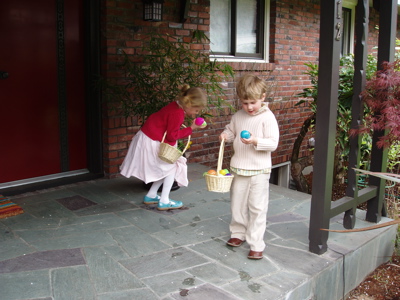 Here is my Easter Basket center piece with Lisa's mod birds looking on: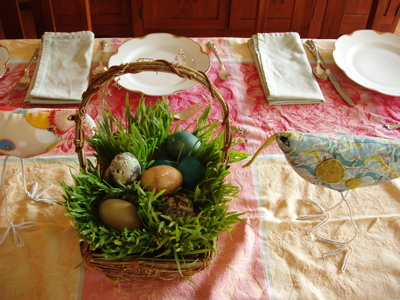 After dinner, we were treated to an Easter ballet by Mia, Milo and Maggie.







Click on any image for a larger view.
A great time was had by all ?¢'Ǩ'Äù especially M & M. Steve took Lisa to the airport. She was due to fly home at 8 am. She just called to say that her flight was canceled due to some mechanical problem and she won't leave Portland until 11 pm. She will have to get a taxi home because Bart does not run that late. I feel so bad for her.
OK! Tomorrow I will start working on my studio. I'm going to the container store to find a fabric storage system. I feel the need to play with fabric and do some free-motion quilting.