Who started the myth that it rains all the time in Portland? We are having glorious spring weather. The week-end was delightful. We took some long walks. We enjoy looking at all the beautiful plants that grow and bloom here in our neighborhood. There is a big variety of architecture which we enjoy, too. I ventured out to get some shopping done. I found a nice bead store not far from home, but not as good as the one in Santa Rosa, but there are many more to check out.
Yesterday, Steph and family came over for my excellent roast chicken and vegetables. I love to cook and especially for the family. We had fresh strawberries, angel food cake and whipped cream for dessert. Miles was watching me fix it and said, "This is gonna be good!!" The best part of all this? ?¢'Ǩ'Äù I get to cook and Mr C cleans up.
Today, I checked out the new JoAnn's superstore not far from me. It is huge and is the first time I have seen a JoAnn's that was clean, neat and very well-organized. They have 50% off coupons in a flyer so I was planning to buy a new, large cutting mat. They had the really large super-sized one on sale so I couldn't use my coupon. I'll go back and find something else, I am sure!! They had some interesting storage modules that I want to go back and give a second look. If I buy one a week, I can get three modules for half price.
Over the week-end, I finished these two small quilts for the art show in May. This is Square Dance. I foiled some square motifs to give more of a focus. These both were started in a class with Sue Benner last November.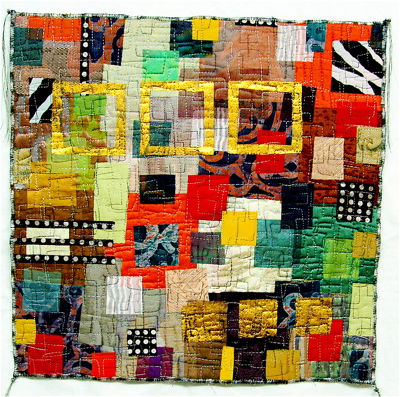 This is Cosmic Circles. The spirals are pale purple organza fused over the piece. The organza has squiggly threads throughout which adds another dimension.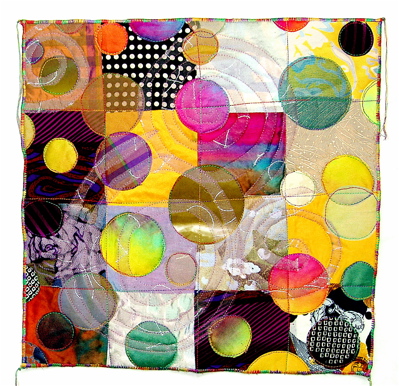 I have several post cards almost finished.The other larger piece will be finished tomorrow. I heavily beaded it by gluing the beads since it is too difficult to sew them through the fusing.