It is aways so sad for me to see the workshop rooms get torn down. After four days, you develop strong attachments to others and it is hard to have it end. Now for some answers to questions. My dear daughter Lisa wanted to know where the desserts are. We have actually had beautiful and delicious desserts, but have not had my camera at dinner with me so now dessert photography.
The lovely screened background in the cross quilt is thermofax screen that Jane brought with her. Lots of us enjoyed using it. It free clipart that she used. Speaking of the cross quilt – here is the final piece with copper foiled crosses. I screen printed the glue with a freezer paper cut out: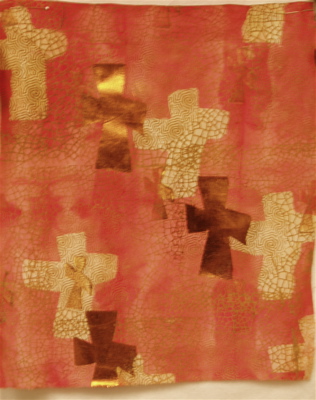 Here is a close-up: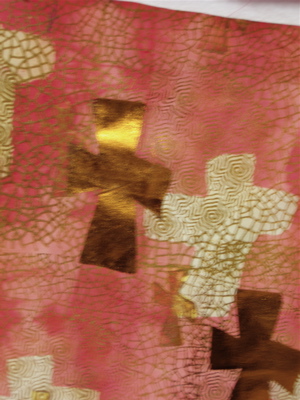 For this piece I screen printed some black graphics and gave it gold foiled spirals for a final touch: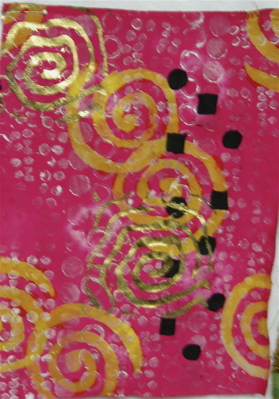 Here is a close-up: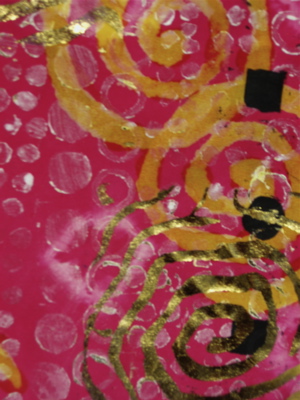 This piece was conceived and executed this afternoon in about and hour and a half. (The glue for the foil has to dry for an hour!) I used the same stencil that I made in three ways: discharge, paint and foil. The back ground is rayon that started in a yellow and was over-dyed with olive green. It was folded and held with rubber bands: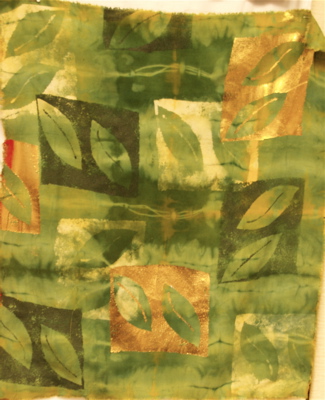 Close-up: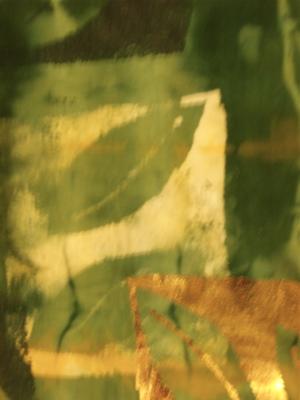 For this piece which I showed yesterday, I stamped a larger linear design over the surface using reddish orange textile paint and then foiled with turquoise with the same stencil that was used in an earlier layer: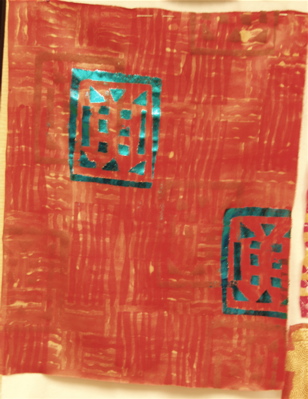 I started this piece this afternoon. It has only two layers done. I covered the background with the same stamp as above, using a paint that I mixed. I then stenciled the circles in the blue-green. Not sure what I'll do next!!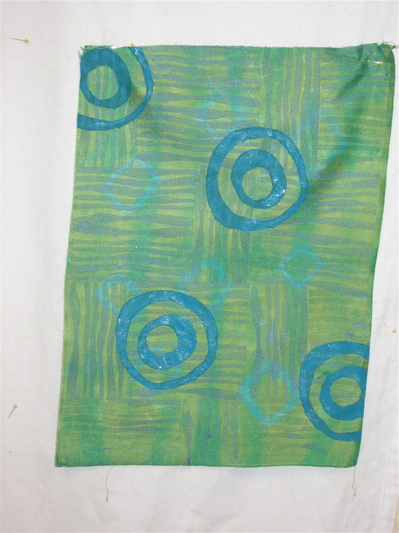 Here is Liz's design wall – beautiful stuff – of course!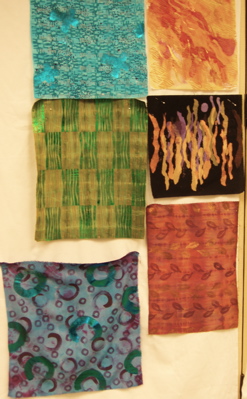 Deb R came by for a quick visit today, but didn't hang around long. Liz didn't even get to see her, she was in and out so fast.
Let me say that I am so glad that I took this class. It was so worth it and I see my work going a new direction. I am going to do a year long follow-up correspondence course with Jane. She also does a class on developing your own personal imagery which would be a great class to take.