I am missing sunshine. After a glorious week of perfect temperatures and sun until 9 pm, it has disappeared for the last two days. I am also missing having Lisa around. If you would like to see some pics she took of her visit with her new Nikon SLR, go here. And now I will be missing M & M and their Mom and Dad, as they left for North Carolina for a week.
So, I will just have to amuse myself and hang out with Mr C. We are still getting stuff done in the house. Tomorrow we are getting a new front door installed. Out entry way is very dark and we have to have a light on all day. So, we are having a door with a full length window and side lights installed. I'll post before and after photos tomorrow. We went to Kelly Moore, our fave paint store, and got some paint chips, and I was almost hyperventilating at the thought of adding color to the house. It is all safe builder's beige right now.
When Lisa was here I tagged along with her to a vintage store specializing in 50's/60's stuff. I found a Kimball walnut office credenza which I really need for my office. In Santa Rosa, my office and the studio were one in the same, but here I have two separate areas. The IKEA furniture all went in to the studio so I had no place to store office supplies. Yesterday, Mr C and I went back and I haggled and got a $50 price reduction and came home with it. We were very proud of ourselves for getting it home, in the house, down the stairs and in my office. It will also hold my Thermofax and old Canon Personal Copier. Here it is.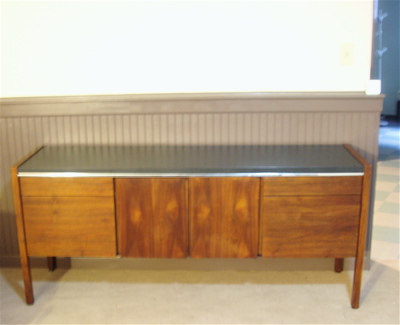 The wall above it is going to hold my art quilt collection – soon, very soon.
OK, now for the sneak peek. I have been beading off and on for days trying to finish the latest tropical fish quilt for the clients in Los Altos Hills. Here are some close-ups of what I have been doing: (these are clickable to see a larger version)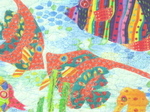 Got to bead it – bye for now!